Impeachment trial II: Trump's lawyers present their defense
Do you support or oppose convicting Trump?
By Josh Herman, Countable News
Former President Donald Trump's defense team presents their arguments in the Senate impeachment trial beginning at 11 a.m. ET.
Trump lawyers Bruce Castor and David Schoen have already argued that the trial is unconstitutional as Trump is no longer in office and denied his responsibility in inciting the Capitol attack. Michael van der Veen and William Brennan are also expected to speak during Friday's arguments.
On Thursday night, a trio of GOP senators met with the defense team: Lindsey Graham of South Carolina, Ted Cruz of Texas, and Mike Lee of Utah.
We'll be updating with key quotes and moments from the trial below.
Catch up on yesterday's trial here.
Key quotes and moments
Trump's defense draws rebuke for challenging Sen. Sanders' question
Michael van der Veen drew a rebuke from the Senate's presiding officer (Sen. Patrick Leahy) after he attempted to dismiss a question from Vermont Sen. Bernie Sanders as irrelevant. 
Sanders asked through a submitted question:
"Are the prosecutors right when they claim Trump was telling a big lie, or, in your judgment, did Trump actually win the election?"
"My judgment? Who asked that?" replied van der Veen. 
"I did," Sanders shouted back. 
"My judgment is irrelevant in this proceeding. It absolutely is."
His response drew murmurs across the Senate, causing Leahy to pound his gavel: "the Senate will be in order."
"The senators under the rules cannot challenge the content of the response," he instructed van der Veen.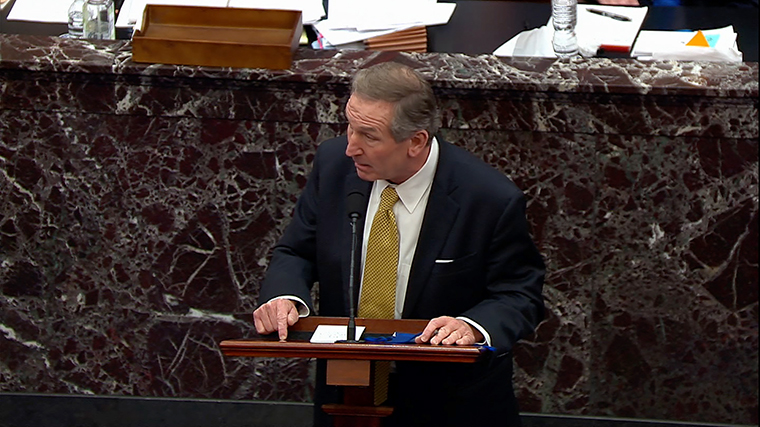 van der Veen persisted arguing that his own judgment was "irrelevant to the question before this body."
---
House Manager Plaskett suggests Trump defense team videos of Democrats had racist undertones
During their presentation, Trump's attorneys repeatedly showed videos of Black Democrats- including Vice President Kamala Harris, Rep. Maxine Waters, and Sen. Cory Booker - urging supporters to "fight" for a particular cause, often BLM. 
Plaskett, a Black woman who is the delegate for the U.S. Virgin Islands, noted that the defense team's videos disproportionately targeted Black politicians.
"The defense counsels put out a lot of videos out in their defense, playing clip after clip of Black women talking about fighting for a cause or an issue or a policy. It was not lost on me, so many of them were people of color and women. Black women, Black women like myself who are sick and tired of being sick and tired for our children."
 "I thought we were past that. I think maybe we're not."
---
GOP Sens. Susan Collins of Maine and Lisa Murkowski of Alaska asked "exactly when" Trump found out rioters breached the Capitol on Jan. 6 and what specific actions he took to stop the violence.
Attorney Michael van der Veen said Trump sent a tweet about the attack on 2:38 p.m. ET that day, "so it was certainly sometime before that."
van der Veen claimed the onus was on House impeachment managers to find out the information. The House managers 
"[D]id zero investigation, and the American people deserve a lot better than coming in here with no evidence."
---
GOP Sen. Romney asks how much Trump knew about Pence's safety
"When President Trump sent the disparaging tweet at 2:24PM regarding Vice President Pence, was he aware that the Vice President had been removed from the Senate by the Secret Service for his safety?" asked Romney, through a question submitted to the counsel for former President Trump. 
Trump's 2:24 p.m. tweet:
"Mike Pence didn't have the courage to do what should have been done to protect our Country and our Constitution."
---
Trump attorney Bruce Castor disputed that Trump asked Georgia officials to "find" votes:
"House managers told you that the president demanded that the Georgia secretary of state 'find' just over 11,000 votes," Castor said.
"The word 'find,' like so many others the House managers highlighted, is taken completely out of context."
---
The first question was submitted by Senate Majority Leader Chuck Schumer (D-NY) and Sen. Dianne Feinstein (D-CA)
"Isn't it the case that the violent attack and siege on the Capitol on January 6th would not have happened if not for the conduct of President Trump?"
House impeachment manager Rep. Joaquin Castro:
"To answer your question very directly, Donald Trump summoned the mob, assembled the mob. Although he could have forcefully intervened to stop the violence, he never did. In other words, this violent, bloody insurrection that occurred January 6th would not have occurred but for President Trump."
---
3:30pm ET
Trump's defense lawyers have wrapped up their case in the Senate.
When the Senate returns, they will begin a Q&A period that could last four hours.
---
Attorney Bruce Castor:
"That issue is, did the 45th president engage in an incitement of, [Democrats] continue to say, insurrection. Clearly there was no insurrection," Castor said.
"Insurrection is a term of art," he elaborated, "It's defined in the law, it involves taking over a country, a shadow government taking the TV stations over and having some plan of what you're gonna do when you finally take power."
"Clearly this is not that. What our colleagues here across the aisle meant is incitement to violence, to riot."
---
Attorney Bruce Castor:
---
Trump lawyer: "Suddenly the word 'fight' is off limits?"
"Suddenly the word 'fight' is off limits? Spare us the hypocrisy and false indignation," attorney Michael van der Veen told the Senate.
Earlier, Trump's legal team played a lengthy video of Democrats using the word "fight" publicly:
---
Trump lawyers present video of Democrats urging impeachment and Sen. Jon Tester saying "you need to go back and punch [Trump] in the face" and House Speaker Nancy Pelosi saying "you've got to be ready to throw a punch." 
"That same hatred and anger has led House managers to ignore their own words and actions and set a dangerous double standard," says Trump lawyer David Schoen. 
---
Meanwhile at Mar-a-Lago: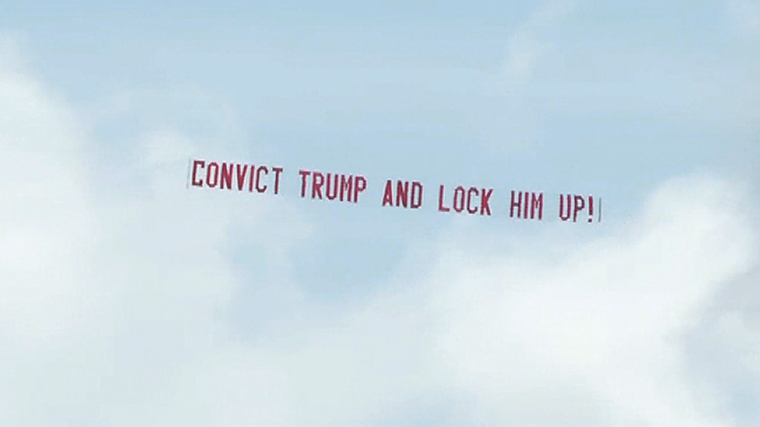 ---
Trump lawyer Michael van der Veen says the Capitol riot was premeditated: 
---
Attorney Michael van der Veen called the second impeachment trial "constitutional cancel culture."
"In effect, Congress would be claiming…the right to disqualify a private citizen no longer a government official from running for public office... In short, this unprecedented effort is not about Democrats opposing political violence. It is about Democrats trying to disqualify their political opposition. It is constitutional cancel culture."
---
Trump's lawyers argue impeachment threatens freedom of speech
---
Attorney Michael van der Veen slams the trial as an "unjust and blatantly unconstitutional act of political vengeance" by Democrats.
"Like every other politically motivated witch hunt the left has engaged in over the past four years, this impeachment is completely divorced from the facts, the evidence and the interests of the American people."
Van der Veen went on to argue that Trump's speech "explicitly encouraged those in attendance to exercise their rights peacefully and patriotically."
---
12:05 p.m. ET - Day 4 of Trump's second impeachment trial just started.
Trump's defense team have begun their arguments. They're arguing that the former president's remarks ahead of the riot should be protected under the First Amendment and that Trump should not be tried because he's no longer in office.
---
Prepare for the trial: