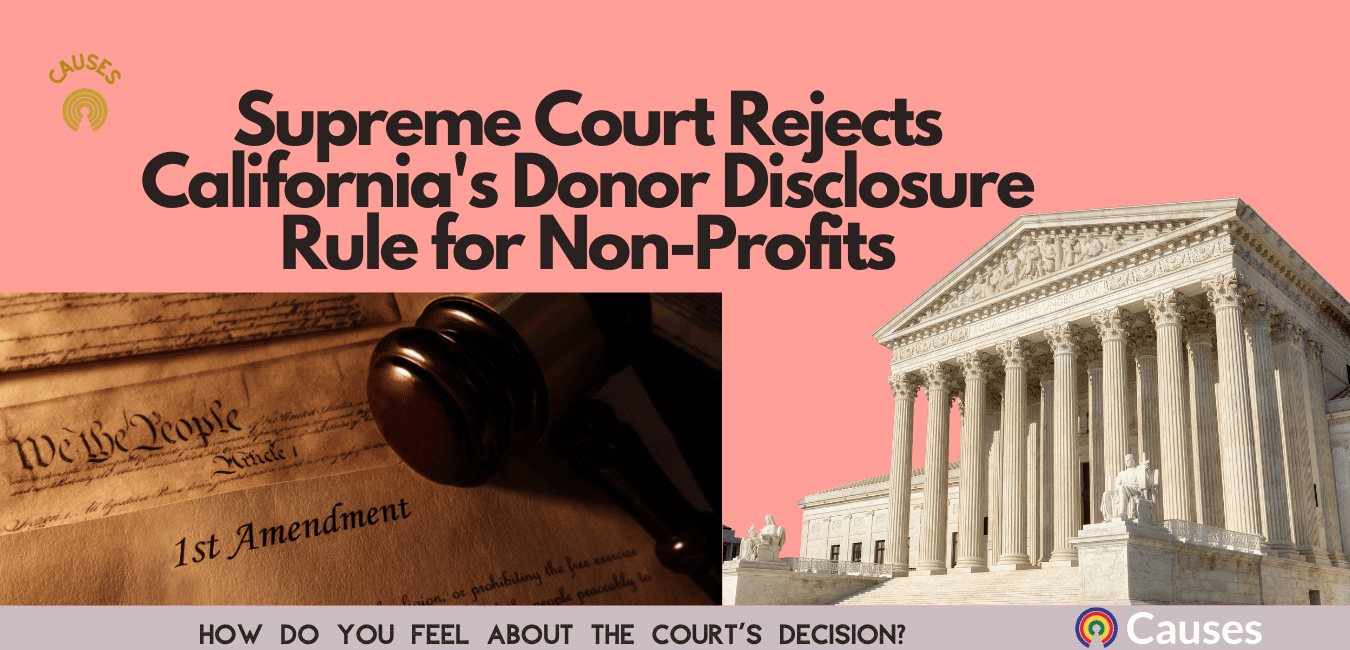 Supreme Court rejects California's requirement for non-profits to disclose donor info
How do you feel about the Court's decision?
By Eric Revell, Countable News


What's the story?
The Supreme Court issued the final decisions of the term on Thursday, including a ruling that strikes down California's requirement that tax-exempt organizations disclose the identity of their donors.
The case, known as American for Prosperity Foundation v. Bonta, California Attorney General, concerned the state of California's requirement that tax-exempt charitable organizations disclose the names and addresses of their major donors. 
The state contended that this information helps police misconduct by tax-exempt groups, while the charities that were party to the case argued that the lack of confidentiality chilled contributions by donors due to the risk of reprisals.
Americans for Prosperity is a charitable, tax-exempt organization that has a conservative orientation but is officially non-partisan. Hundreds of other non-partisan, tax exempt groups from across the ideological spectrum, including the American Civil Liberties Union, the Chamber of Commerce, and the Hispanic Leadership Fund, filed amici curiae("friend of the court") briefs supporting AFP's position.
The federal district court in two cases granted the charities' request for an injunction that blocked California from collecting the donor information, while the Ninth Circuit reversed those decisions and sent them back to the lower court.
The Supreme Court reversed the Ninth Circuit's decision in a 6-3 ruling along ideological lines, finding that California's donor disclosure rule violated the First Amendment.
What did the justices say?
Chief Justice John Roberts delivered the majority opinion, which was joined in full by Justice Brett Kavanaugh and Justice Amy Coney Barrett. Justice Clarence Thomas, Justice Samuel Alito, and Justice Neil Gorsuch agreed with the judgment but didn't join all of Roberts's opinion. Roberts's majority opinion read in part:
"Finally, California's demand for Schedule Bs cannot be saved by the fact that donor information is already disclosed to the IRS as a condition of federal tax-exempt status. For one thing, each governmental demand for disclosure brings with it an additional risk of chill. For another, revenue collection efforts and conferral of tax-exempt status may raise issues not presented by California's disclosure requirement, which can prevent charities from operating in the State altogether.
We are left to conclude that the Attorney General's disclosure requirement imposes a widespread burden on donors' associational rights. And this burden cannot be justified on the ground that the regime is narrowly tailored to investigating charitable wrongdoing, or that the State's interest in administrative convenience is sufficiently important. We therefore hold that the up-front collection of Schedule Bs is facially unconstitutional, because it fails exacting scrutiny in "a substantial number of its applications . . . judged in relation to [its] plainly legitimate sweep."
The dissent concludes by saying that it would be "sympathetic" if we "had simply granted as-applied relief to petitioners based on [our] reading of the facts." But the pertinent facts in these cases are the same across the board: Schedule Bs are not used to initiate investigations. That is true in every case. California has not considered alternatives to indiscriminate up-front disclosure. That is true in every case. And the State's interest in amassing sensitive information for its own convenience is weak. That is true in every case. When it comes to the freedom of association, the protections of the First Amendment are triggered not only by actual restrictions on an individual's ability to join with others to further shared goals. The risk of a chilling effect on association is enough, "[b]ecause First Amendment freedoms need breathing space to survive.""
Thomas filed a concurring opinion as did Alito, whose concurrence was joined by Gorsuch. Both explained that they agreed with the judgment but would have scrutinized aspects of the case differently.
Justice Sonia Sotomayor wrote a dissenting opinion that was joined by Justice Stephen Breyer and Justice Elena Kagan. Sotomayor's dissent read in part:
"Although this Court is protective of First Amendment rights, it typically requires that plaintiffs demonstrate an actual First Amendment burden before demanding that a law be narrowly tailored to the government's interests, never mind striking the law down in its entirety. Not so today. Today, the Court holds that reporting and disclosure requirements must be narrowly tailored even if a plaintiff demonstrates no burden at all. The same scrutiny the Court applied when NAACP members in the Jim Crow South did not want to disclose their membership for fear of reprisals and violence now applies equally in the case of donors only too happy to publicize their names across the websites and walls of the organizations they support.
California oversees nearly a quarter of this Nation's charitable assets. As part of that oversight, it investigates and prosecutes charitable fraud, relying in part on a registry where it collects and keeps charitable organizations' tax forms. The majority holds that a California regulation requiring charitable organizations to disclose tax forms containing the names and contributions of their top donors unconstitutionally burdens the right to associate even if the forms are not publicly disclosed.
In so holding, the Court discards its decades-long requirement that, to establish a cognizable burden on their associational rights, plaintiffs must plead and prove that disclosure will likely expose them to objective harms, such as threats, harassment, or reprisals. It also departs from the traditional, nuanced approach to First Amendment challenges, whereby the degree of means-end tailoring required is commensurate to the actual burdens on associational rights. Finally, it recklessly holds a state regulation facially invalid despite petitioners' failure to show that a substantial proportion of those affected would prefer anonymity, much less that they are objectively burdened by the loss of it."