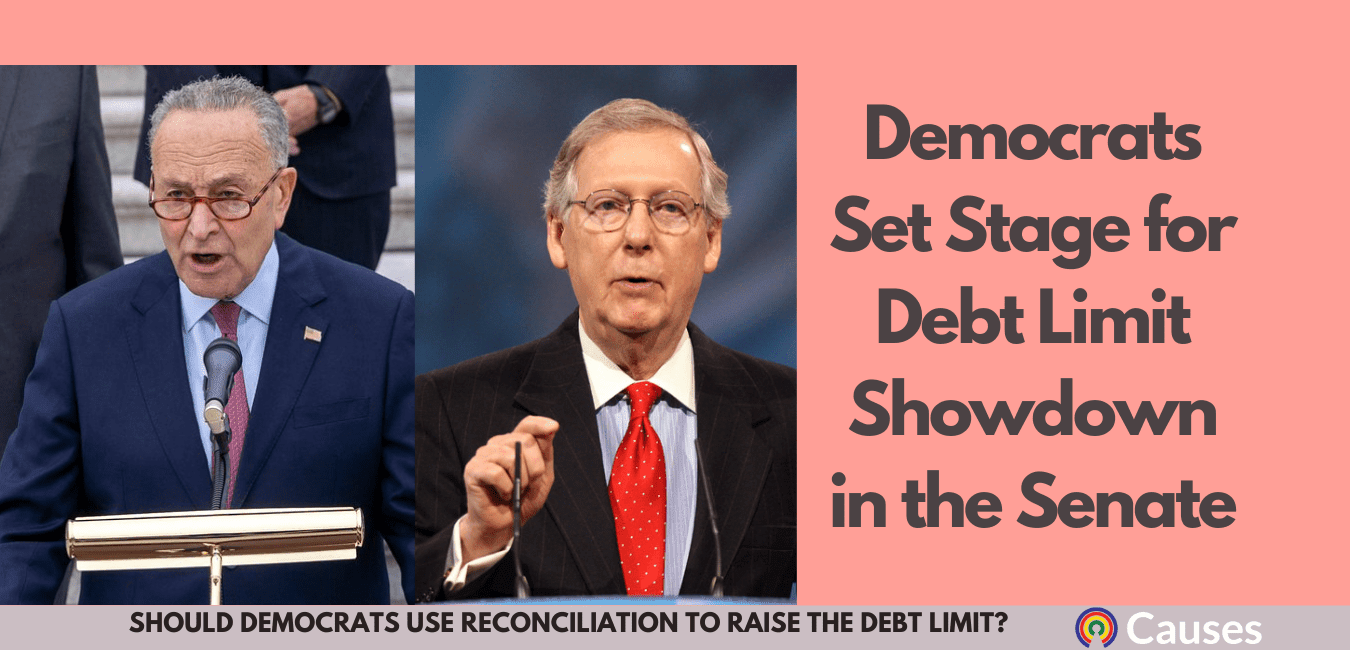 Democrats set stage for debt limit showdown with Republicans in the Senate
Should Democrats raise the debt limit via reconciliation if there's no Republican support?
By Eric Revell, Countable News
What's the story?
What's happening with the debt limit?
The debt limit was most recently increased by Congress in August 2019 with the enactment of the Bipartisan Budget Act, which suspended the debt limit through July 31, 2021. When that date arrived, the debt limit was reset to accommodate the debt accumulated during the suspension. In addition to the federal government's budget deficit from its regular operations, that included several bipartisan pandemic relief measures, such as the $2.2 trillion CARES Act and the $900 billion December relief bill, along with Democrats' $1.9 trillion spending package that was enacted through reconciliation in March 2021.
In early August, the Treasury Dept. began taking its "extraordinary measures" to fund the government's obligations on an interim basis until the debt limit is increased or those measures are exhausted. Recent projections have indicated that extraordinary measures can last until mid-October or as late as mid-November.
Senate Republicans have indicated they would support a clean continuing resolution to fund the government along with targeted disaster relief and assistance for Afghan evacuees, but oppose Democrats' inclusion of a debt limit increase. Only four GOP senators, far short of the 10 needed to meet the 60 vote threshold to overcome a filibuster, have said they would be willing to allow Democrats' current debt limit solution to advance.
GOP lawmakers have argued that Democrats should use the budget reconciliation process to raise the debt limit, which would allow them to do so without any Republican votes, given that they're already using it to advance a partisan $3.5 trillion spending plan. Using reconciliation for the debt limit would require Democrats in the House and Senate to approve a revised budget resolution with reconciliation instructions that raise the debt limit, and then produce a reconciliation bill that raises the debt limit and passes both chambers.
Democratic leaders intend to force a Senate vote on the House-passed bill early next week, and they are accusing the GOP of being reckless with the stability of the economy by risking a default. Thus far, they haven't suggested that they're preparing to use reconciliation as a fallback plan if Senate Republicans follow through with their opposition to the debt limit hike. 
Democrats would prefer to not use reconciliation because they would likely have to specify a dollar amount for the new debt limit (the national debt is currently about $28.7 trillion); whereas a suspension of the debt limit as proposed in the House Democrats' bill would allow the federal government to rack up an indefinite amount of debt incurred through December 16, 2022. 
It also could prove to be a time-consuming process. The Senate would be required to hold an amendment "vote-a-rama" for both the revised budget resolution and the reconciliation bill, which would give GOP senators two opportunities to force votes on amendments and consume multiple days of floor time. However, it's possible that GOP senators may not request as many amendment votes as in a typical vote-a-rama and that they could yield back debate time.
The process of revising the budget resolution to unlock the use of reconciliation could be undertaken while Democrats advance their $3.5 trillion spending plan through reconciliation and wouldn't necessarily interfere with the consideration of a bipartisan bill to fund the government prior to September 30th and provide funding for disaster relief and Afghan resettlement.
Failure to raise the debt limit and subsequent default on the government's obligations would have "catastrophic consequences" according to Treasury Secretary Janet Yellen. A default would likely cause interest rates to rise and thereby raise the cost of servicing the national debt, which cost $345 billion in FY2020 according to the Congressional Budget Office.
(Photo Credit: Schumer: Senate Democrats via Flickr / Creative Commons | McConnell: Gage Skidmore via Flickr / Creative Commons)