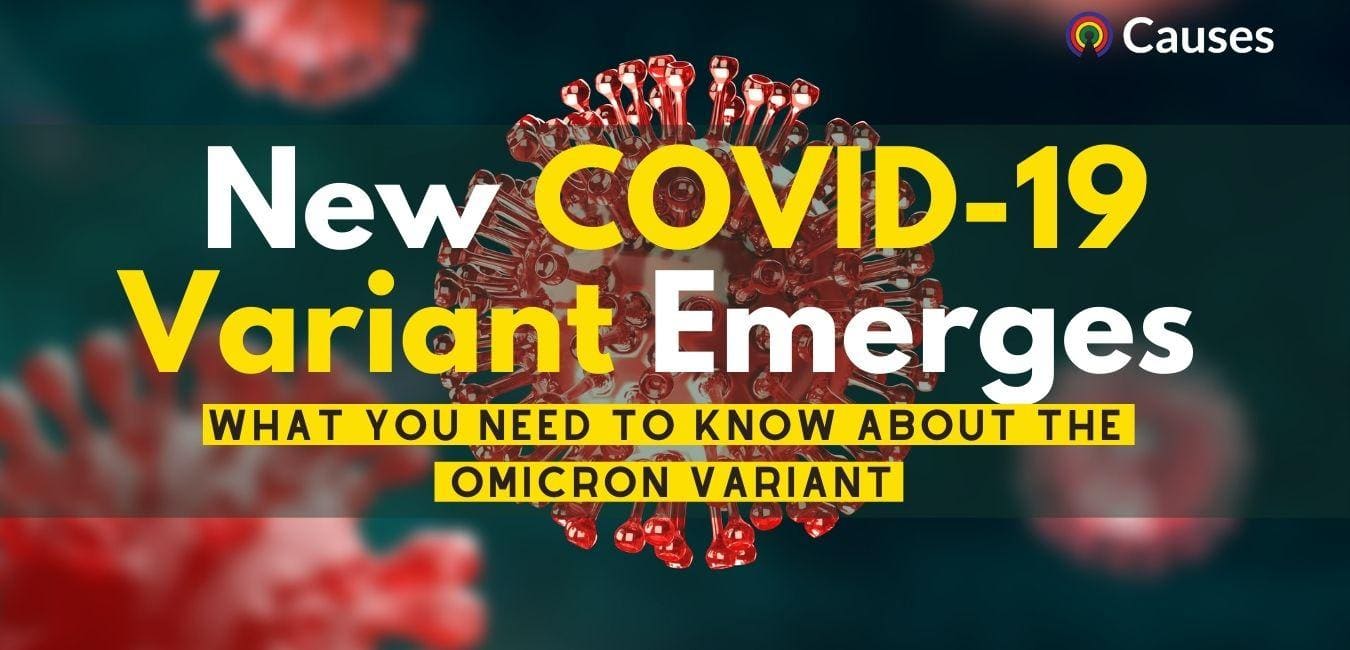 The Omicron Variant: What To Know
Are you concerned about this new COVID-19 variant?
Written by Casey Dawson, Countable News
What's the story?
Omicron has been classified as a COVID-19 "variant of concern" by the World Health Organization following reports of unusually high numbers of mutations from researchers in South Africa. 
WHO gave the designation after preliminary evidence found Omicron has several mutations that may have an impact on how it behaves -- such as how easily it spreads or the severity of illness it causes. They also warned the variant could have an increased risk of reinfection in people who have already had COVID-19. 
Key Definitions
Scientists designate virus variants under classifications based on information like ease of spread, severity of symptoms, response to treatments, and vaccine efficacy against the virus. The different classifications used by the WHO are Variants Being Monitored (VBM), Variants of Interest (VOI), Variants of Concern (VOC), and Variants of High Consequence (VOHC). 
A mutation refers to a single change in a virus' genome. Mutations happen often, but only sometimes change the characteristics of the virus.
A variant is a virus that has one or more mutations. 
Find more detailed information about viruses, variants, and mutations here. 
The current situation
The U.S. reported its first cases of the Omnicron variant earlier this week.
Countries with known or suspected cases of the Omicron variant also include Hong Kong, Canada, United Kingdom, Italy, Botswana, Germany, and several others.
At least 44 countries, including the U.S., have already instituted restrictions against travelers from various southern African countries.
What are people saying?
Sweeping travel bans have been criticized by some leaders who say they do not prevent the spread of the variant and instead alarm the public while punishing and stigmatizing COVID-19 transparency.
Others have said that while travel bans are not long-term solutions, they can be important to buy time for countries to increase their airport surveillance, vaccination rollout, and testing availability.
What's next
Studies are underway to better understand the variant and its potential impact on the world. Scientists expect more information will be available in the next few weeks. 
So far, they believe existing vaccines will offer protection from severe illness and death from the variant.
The big picture
The only other variant to be designated on the same level of "concern" is the Delta variant, which emerged a year ago and is now the overwhelmingly predominant variant accounting for more than 99% of U.S. cases. Delta is estimated to be more than twice as contagious as previous variants. It also poses the most risk to people who are not vaccinated, as the highest spread of cases and severe outcomes occur in areas with low vaccination rates.
Scientists and doctors continue to strongly recommend following CDC and WHO guidelines, including getting fully vaccinated, as all FDA-approved vaccines significantly reduce the risk of severe illness, hospitalization, and death from all variants.
Statement from the WHO:
"Individuals are reminded to take measures to reduce their risk of COVID-19, including proven public health and social measures such as wearing well-fitting masks, hand hygiene, physical distancing, improving ventilation of indoor spaces, avoiding crowded spaces, and getting vaccinated."