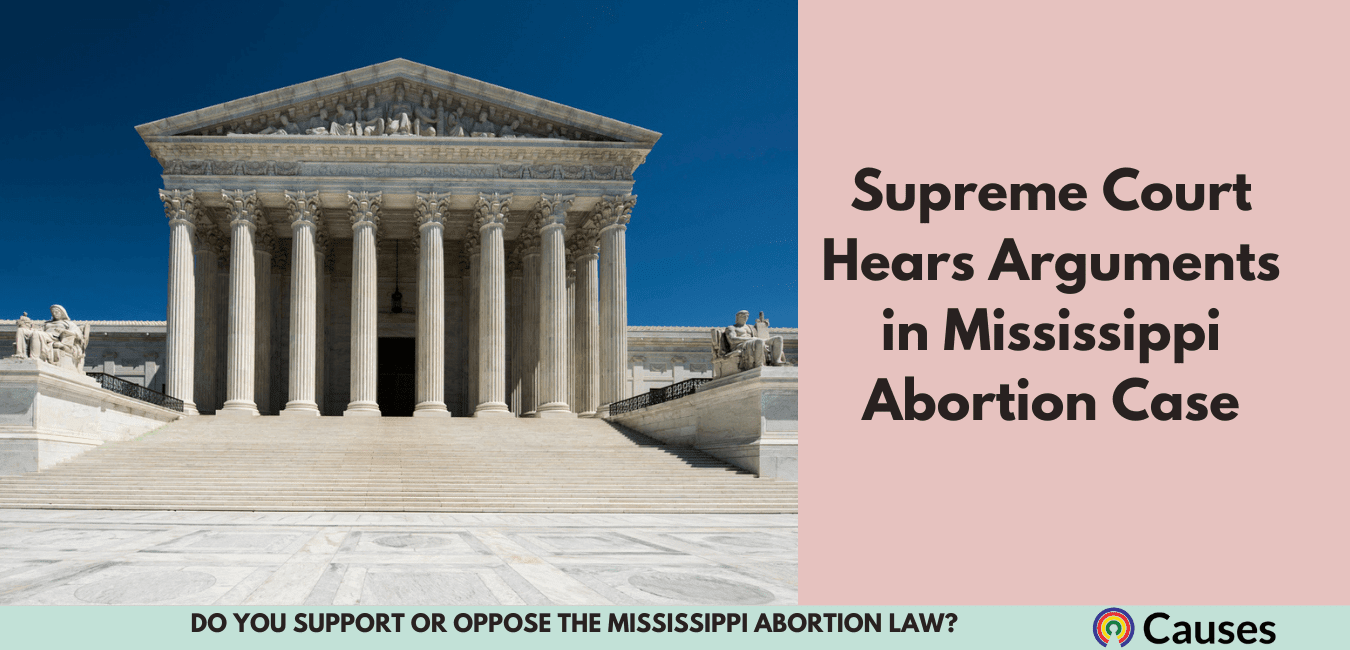 Supreme Court hears arguments in Mississippi abortion case
Do you support or oppose the Mississippi abortion law?
Written by Eric Revell, Countable News


What's the story?
The Supreme Court on Wednesday heard oral arguments in a case involving Mississippi's law banning abortions after 15 weeks of pregnancy, which may result in the most significant change to the Court's abortion precedents in decades. A decision in the case will likely be reached before the end of June 2022.
Known as Dobbs v. Jackson Women's Health, the case concerns Mississippi's ban on elective abortions more than 15 weeks into pregnancy except in cases of medical emergencies and severe fetal abnormalities. Mississippi enacted the Gestational Age Act in 2018, although a district court judge blocked it shortly thereafter and appeals have been unsuccessful to date. When the justices took up the case, they decided that the Court will consider: "Whether all pre-viability prohibitions on elective abortions are unconstitutional." 
While oral arguments don't always indicate how a justice will vote on a case, the questions they pose to the lawyers during the arguments can illustrate how they view the case and where they will ultimately come down on the issue at hand. On Wednesday, five of the Court's conservatives seemed to signal a willingness to uphold Mississippi's law, potentially by addressing Roe and Casey, while Chief Justice John Roberts seemed inclined to find middle ground, and the three liberal justices want to reject the Mississippi law and uphold existing precedents. If Roe is overturned, the issue of abortion policy would be returned to states.
What were the main points during oral arguments?
The state of Mississippi argued that the Court's current viability standard is arbitrary and should be changed to a 15-week cutoff point for most elective abortions. Mississippi Solicitor General Scott Stewart added that the enactment of safe haven laws by all 50 states, which let a parent forfeit parental responsibility for their newborn and allow adoption, in addition to the availability of contraception provide viable alternatives to the need for abortion access as a means of avoiding parental burdens. 
U.S. Solicitor General Elizabeth Prelogar argued on behalf of the Biden administration and Julie Rikelman argued as an attorney representing the Center for Reproductive Rights. Both opposed the Mississippi law and urged the justices to uphold the current viability standard under existing precedent, contending that a ruling rolling back abortion rights would deprive a pregnant woman of her liberty to not carry a fetus to term
Supreme Court abortion precedent moved from a trimester standard under Roe to a viability standard under Casey. The viability threshold for a fetus has changed as technology has improved from 28 weeks to 24 weeks, which is the generally accepted threshold at present although some infants have survived recently after being born as early as 21 weeks. Another key issue presented was the doctrine of stare decisis ― the concept of letting past precedent stand unless there is a compelling reason for it to be overturned.
Chief Justice John Roberts seemed to probe whether it would be possible to uphold the 15-week ban and move away from the viability standard without overturning Roe and Casey entirely. However, the counsel for both sides of the argument seemed to indicate that wouldn't be tenable. 
Roberts also noted, "when you get to the viability standard, we share that standard with countries like the People's Republic of China and North Korea" and that a standard of restricting abortions after 15 weeks is more in line with the vast majority of other countries. The U.S. is one of seven countries to allow abortions after 20 weeks of pregnancy.
Justice Amy Coney Barrett seemed sympathetic to Stewart's argument enactment of safe haven laws in conjunction with the availability of contraception may provide a reasonable alternative to abortion access after 15 weeks.
The Court's three liberal justices seemed to agree with arguments made on behalf of the abortion providers and the Biden administration in favor of upholding current precedents. Justice Stephen Breyer said that the problem with a "watershed case" like this that may affect Roe and Casey is that "when people are really opposed on both sides and they really fight each other, is they're going to be ready to say, no, you're just political, you're just politicians. And that's what kills us as an American institution." Justice Sonia Sotomayor similarly questioned whether the Supreme Court's legitimacy could be maintained if Roe and Casey are overturned: 
"Will this institution survive the stench that this creates in the public perception that the Constitution and its reading are just political acts? I don't see how it is possible."
Justice Samuel Alito noted that the Court has looked past stare decisis to overturn past precedents when they're later found to be "egregiously wrong" and unconstitutional, such as in Plessy v. Ferguson, a unanimous 1896 ruling which upheld racial segregation in "separate but equal accommodations" which was relied upon by the Court in relevant cases until it was unanimously overturned in 1954 by Brown v. Board of Education, Topeka, Kansas. In response to Alito's question as to whether Plessy should have been overturned immediately, Prelogar said that while Plessy was wrong, the Court should only have overturned with "extensive consideration."
Justice Brett Kavanaugh noted that if Mississippi were to prevail, states "could and presumably would continue to freely allow abortion," which would allow the interests of mothers and the unborn in abortion law to be adjudicated legally and politically at the state level. 
What are the relevant precedents?
The case concerns one of the Court's most well-known abortion decisions, which came in a case known as Roe v. Wade (1973). In Roe, the Court held that the Constitution protects a woman's right to terminate her pregnancy. The Court held that the 14th Amendment protected personal privacy rights, including a woman's decision about whether to carry the pregnancy to term, and that only compelling state interests can justify limitations on that decision. It held that the state's interest in protecting the mother's health begins at the end of the first trimester, and its interest in protecting the fetus begins at the point of viability.
Another relevant precedent comes from Planned Parenthood v. Casey (1992), which overturned the trimester standard in Roe in favor of a viability standard, allowing states to adopt restrictions on first-trimester abortions so long as they don't unduly burden a woman's efforts to obtain an abortion before the fetus reaches viability. It reaffirmed Roe in three ways: a woman has a right to an abortion prior to viability; the state can restrict post-viability abortions as long as there are exceptions for the woman's health; and that the state has legitimate interests in protecting the woman's health and the life of the fetus. These findings resulted in Pennsylvania's 24-hour waiting period, informed consent, parental notification, and record-keeping requirements being upheld; and the state's spousal notification requirement is struck down.
The most recent significant Supreme Court decision related to abortion came in Whole Women's Health v. Hellerstedt (2016). It invalidated Texas laws that required abortion-providing physicians to have admitting privileges at nearby hospitals, and that their abortion facility meet the same standards as an ambulatory surgical center. The Court found that those requirements created an undue burden for abortion access, in violation of the standards it outlined in Casey.
(Photo Credit: iStock.com / JPecha)