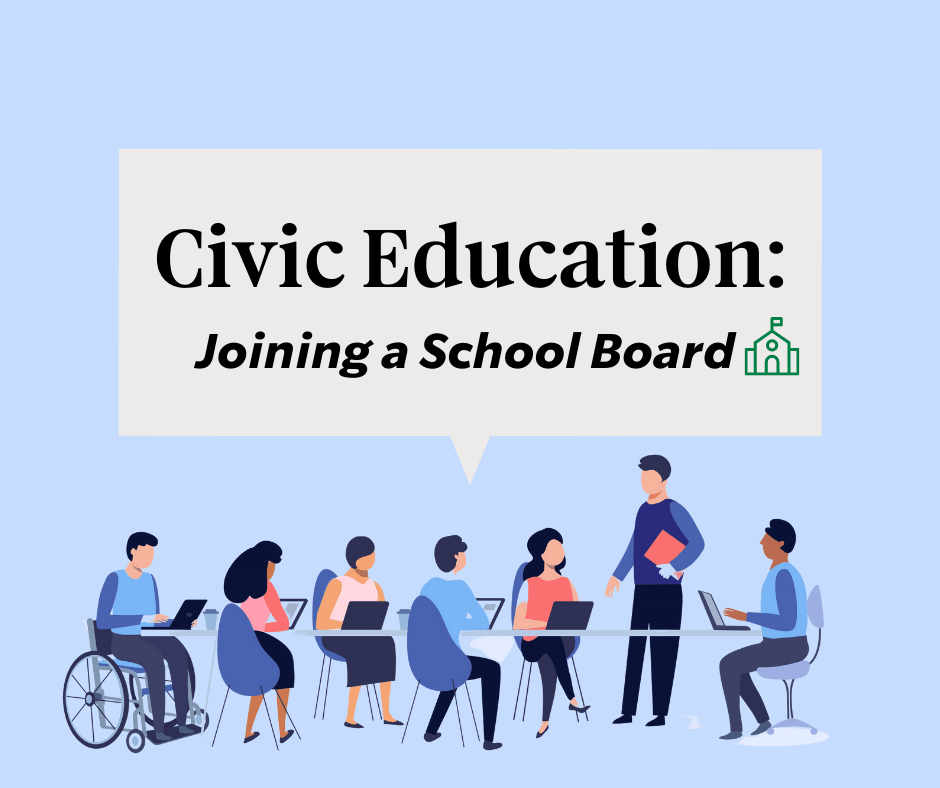 Civic Education: What It Means To Join a School Board
Join us and spread the word to your community
What is a school board? 
School boards are the local, citizen-governing body of a school district. While the state holds the ultimate authority over education, many responsibilities are delegated to the board to oversee the successful management of schools.
What it means to be on a school board
School boards are tasked with ensuring a high-quality education within their district and making decisions in the best interest of students and the community.
School board responsibilities are extensive and can include:
Hiring and monitoring the superintendent, who acts as the chief executive of the school district and implements policies, manages staff, and handles day-to-day operations. They may also hire and fire school principals. 

Setting a budget and spending priorities, including funding for arts, sports, music, and other programs.

Approving of curriculum, including textbooks and other materials.

Setting policies on discipline and safety within schools.

Establishing the annual school calendar, creating bus routes, and setting school hours.

Listening to the community and holding public school board meetings.

Setting and monitoring "big picture" goals for the district, like academic standards and school culture.
How to join a school board
School board officials can be elected or appointed. They generally consist of five to nine officials who meet at least once a month. 
Elected school boards: 
Any citizen over 18 - who is registered to vote within the district and has lived there for at least a year - can run.

Candidates do not need a background in government, education, or policy to run, they simply need enough votes. 

People who already work for the district (like teachers, administrators, or other staff) are typically not allowed to run.

Elections are usually "nonpartisan," meaning candidates do not need to declare party affiliation.

The role is an unpaid volunteer position, but some larger districts provide compensation.

Officials may be subject to a

recall election

if a formal petition from the public gains enough traction.

Over 90% of school boards are of the elected variety.
Appointed school boards:
Cities have given control to the mayor to appoint school board officials. 

Board officials have set terms (typically 4 years) that are staggered so no school board is completely replaced at one time.

Chicago and NYC are examples of cities with appointed school boards. 
How can I find info on my school board?
Find your local school board using XQ's School Board Lookup Tool. Most school boards have a website that lists the current members, a calendar of events and meetings, and other helpful details. 
For more information on how to get involved or join a school board, XQ provides extensive resources.