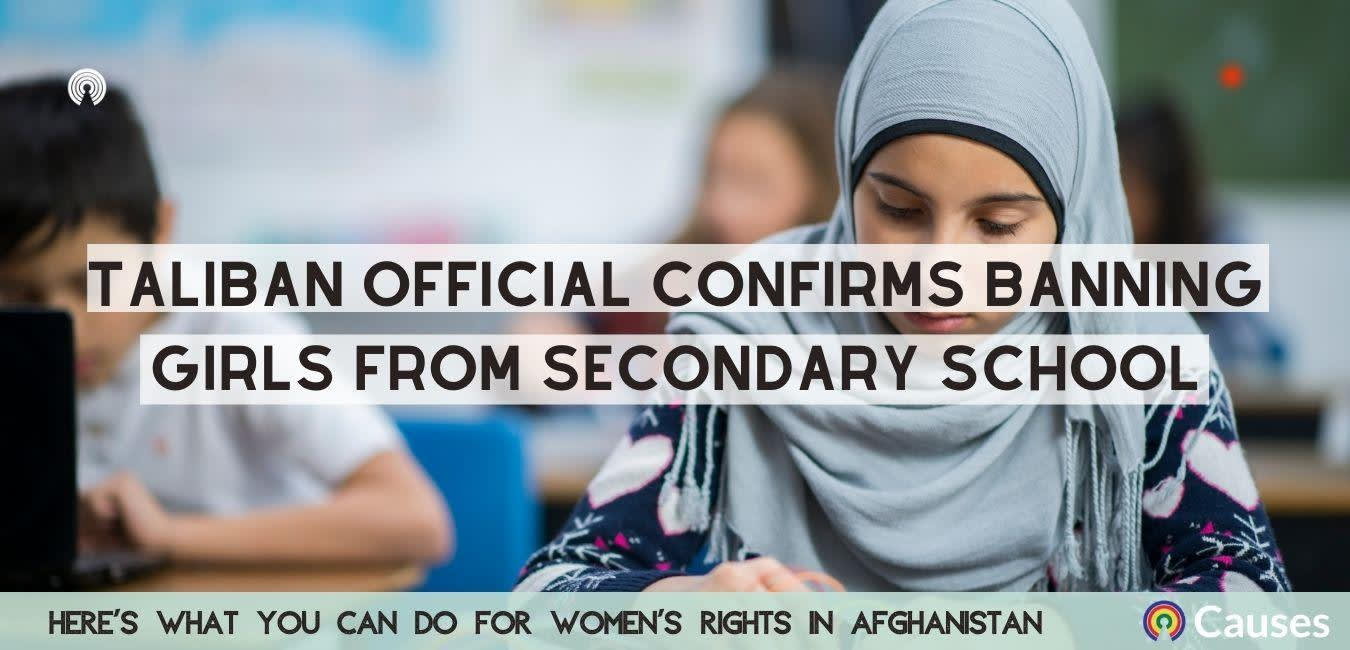 Taliban official confirms secondary school ban for female students
An update on women's rights in Afghanistan - And what you can do to help
Written by A.J. Hanley and Casey Dawson, Countable News
What's the story?
More than three months since the Taliban takeover of Afghanistan, the BBC has reported that Deputy Education Minister Abdul Hakim Hemat confirmed that until a new education policy is approved next year, girls will not be allowed to attend secondary school. 
Despite initial assurances from the Taliban to the contrary, many female students have been barred from attending school since August. Reports across the region vary, with some schools saying that after negotiations with local Taliban officials, girls were able to attend. Others say that they were able to reopen but then forced to close soon after, and some schools have seen a drop in female student attendance due to intimidation by armed Taliban fighters.
Stand With Afghan Women
Want to show your support? Consider donating to these organizations that help Afghan women and girls:
• Women for Women International
---
What's the backstory?
The news comes following pledges by Taliban leaders that they would be more moderate, peaceful, and inclusive of women than in the past.
Longtime Taliban spokesperson Zabihullah Mujahid vowed that under their new rule, women will be allowed to work and study, and their rights respected "within the framework of Islamic law" or Sharia.
From 1996 to 2001, the militant group imposed a harsh interpretation of Sharia law, banning women from working, eliminating schooling for girls, and meting out brutal punishments for those who failed to comply with its morality code.
What is Sharia law?
Simply put, Sharia is Islam's legal system.
Arabic for "the clear, well-trodden path to water," Sharia is a set of ethical and legal principles drawn from the teachings of the Quran (Islam's central text), the traditions of the Prophet Muhammad, and the rulings of religious scholars.
Sharia offers guidance on religious and secular duties, including prayer, fasting, and marriage.
It also outlines specific crimes, dividing them into two categories: "tazir" and "hadd."
Punishment for tazir crimes are left to the discretion of a judge. Hadd crimes - like theft and adultery - are seen as the most serious and, in some countries, are punishable by amputation, flogging, stoning, and execution.
Differences in Sharia
Sharia is open to interpretation and it can look very different depending on where you are in the Muslim world--and even within the same country.
In its previous reign in Afghanistan, the Taliban barred most women and girls from working and denied them access to education and health care. Women couldn't leave their homes without wearing a burqa (a full-body modesty garment) or being chaperoned by a male relative.
Afghani women were also forbidden from being seen on the balcony of their home, speaking loudly in public, and wearing high-heeled shoes or makeup. Photos of females could not be taken or displayed in newspapers, books, shops, or the home.
Restrictions in dress, movement, and behavior were enforced by the morality police officers who drove around in pickup trucks. Lawbreakers could be publicly flogged, beaten, or stoned. In 1996, a woman in Kabul had part of her thumb cut off for wearing nail polish, according to Amnesty International.
A 20-year reprieve
The U.S.-led invasion of Afghanistan after the 9/11 attacks ushered in new freedoms for women. They were no longer confined to their homes or legally required to wear burqas. 
A new constitution in 2003 outlawed discrimination, declaring "citizens of Afghanistan, man and woman, have equal rights and duties before the law."
In 2009, the Elimination of Violence Against Women (EVAW) law criminalized rape, battery, and forced marriage, and made it illegal to prevent women or girls from working or studying.
In the past two decades, Afghan women have made great gains, serving on the military and police forces, holding political office, and even competing in the Olympics.