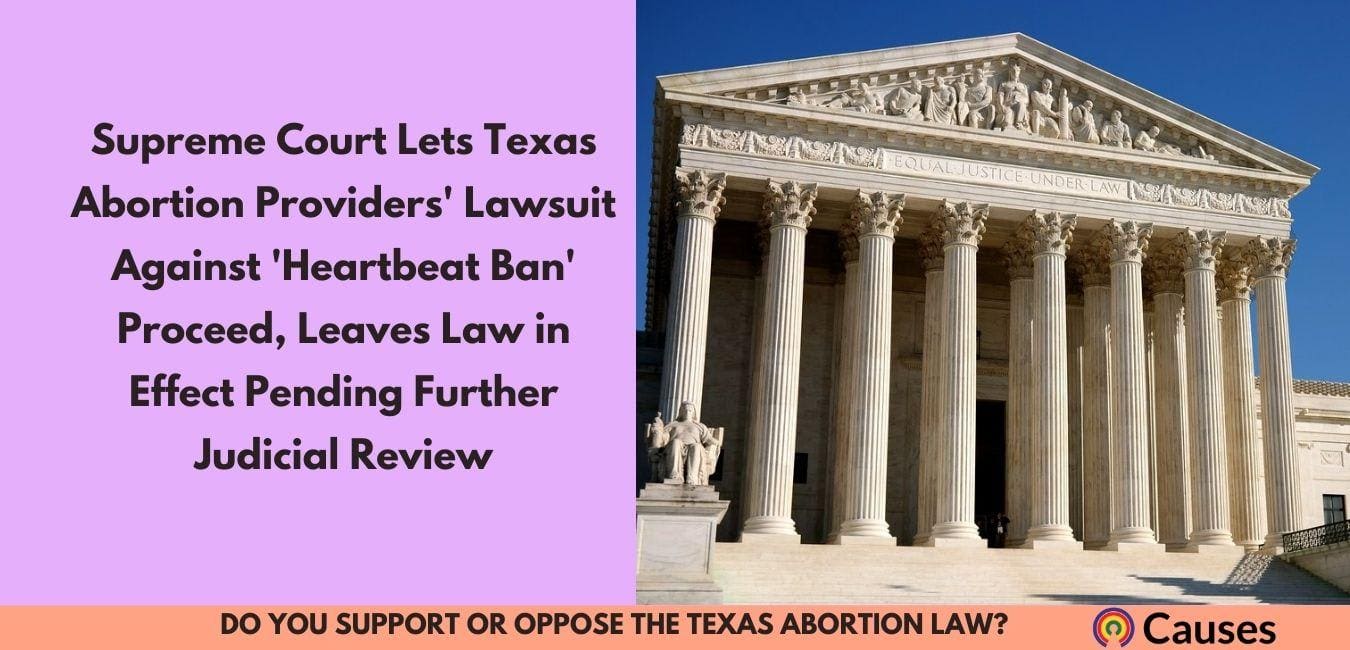 Supreme Court lets Texas abortion providers' challenge of six-week ban proceed, leaves law in effect pending further judicial review
Do you support or oppose the Texas abortion law?
Written by Eric Revell, Countable News
What's the story?
The Supreme Court on Friday released an opinion that will allow abortion providers' lawsuit seeking to block Texas's Heartbeat Act, which bans abortions after a fetal heartbeat can be detected at around six to eight weeks of pregnancy, to proceed while the law remains in effect until the case is resolved. 
The Texas law's enforcement mechanism raises novel constitutional questions because it enables individuals to sue for the enforcement of the law, rather than relying on the government to enforce it. Thus far, no such private lawsuits have been filed, so it has been unclear whether any party has the standing to raise a valid legal challenge since lawsuits contesting the constitutionality of a law are typically directed at government officials. 
The Court allowed abortion providers' lawsuit, known as Whole Woman's Health v. Jackson, to proceed, effectively holding that they have standing to sue. Their suit seeks to block the law's enforcement by Texas county clerks who would docket the hypothetical lawsuits filed under the Heartbeat Act. The Court rejected a related suit filed by the Biden administration, known as U.S. v. Texas, which sought to argue the Texas abortion law was unconstitutionally designed to evade judicial review.
Justices delivered a fragmented 8-1 opinion allowing the lawsuit filed by abortion providers to proceed. Justice Neil Gorsuch wrote the majority opinion which was joined in full by Justice Samuel Alito, Justice Brett Kavanaugh, and Justice Amy Coney Barrett. Justice Clarence Thomas joined Gorsuch's opinion except for a portion of it. 
Chief Justice John Roberts wrote an opinion concurring in the judgment and dissenting in part, which was joined by Justice Stephen Breyer, Justice Sonia Sotomayor, and Justice Elena Kagan. Sotomayor also wrote a concurring opinion that dissented in part, which was joined by Breyer and Kagan.
Gorsuch's majority opinion concluded:
"The petitioners' theories for relief face serious challenges but also present some opportunities. To summarize: (1) The Court unanimously rejects the petitioners' theory for relief against state-court judges and agrees Judge Jackson should be dismissed from this suit. (2) A majority reaches the same conclusion with respect to the petitioners' parallel theory for relief against state-court clerks. (3) With respect to the back-up theory of relief the petitioners present against Attorney General Paxton, a majority concludes that he must be dismissed. (4) At the same time, eight justices hold this case may proceed past the motion to dismiss stage against Mr. Carlton, Ms. Thomas, Ms. Benz, and Ms. Young, defendants with specific disciplinary authority over medical licensees, including the petitioners. (5) Every Member of the Court accepts that the only named private-individual defendant, Mr. Dickson, should be dismissed. The order of the District Court is affirmed in part and reversed in part, and the case is remanded for further proceedings consistent with this opinion."
The lawsuit will now return to the district court, where it will be heard on the merits. It may ultimately come before the Supreme Court again on appeal at a later date.
(Photo Credit: Supreme Court: VoxLive via Flickr / Creative Commons)