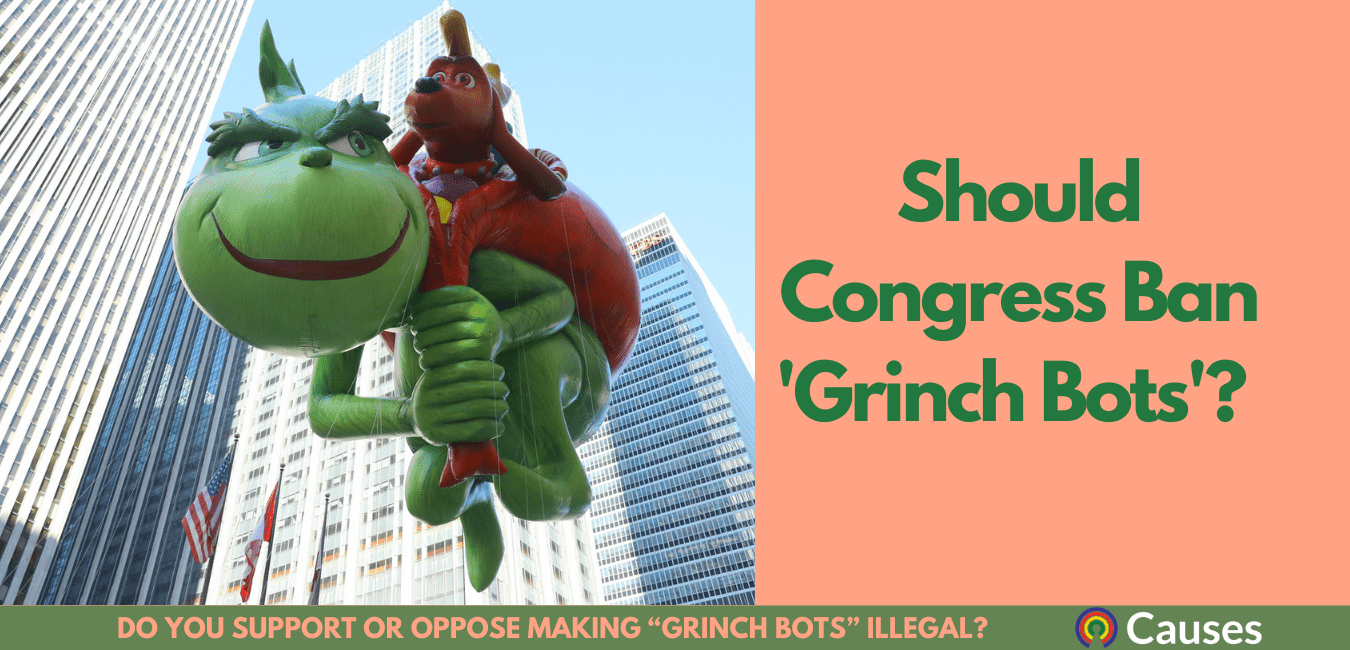 Should 'Grinch Bots' be prohibited?
Do you support or oppose making "grinch bots" illegal?
Written by Eric Revell with contributions from Lorelei Yang, Countable News
What's the story?
Democrats in Congress are pushing for legislation to ban the use of so-called "grinch bots," which are automated programs used by resellers during the holiday season to rapidly buy popular items online in bulk orders so that they can be resold at a substantial markup. Grinch bots can wipe out a store's entire inventory for a product and have thus prompted comparisons to the Dr. Seuss character who tried to steal Christmas. 
Grinch bots have exacerbated shortages caused by ongoing supply chain issues that have plagued retailers during the COVID-19 pandemic. According to research by Imperva, a data and cybersecurity research group, advanced bot traffic on retail websites in November 2021 grew 73% over the previous month ahead of Black Friday and Cyber Monday.
Some lawmakers in Congress are hoping to stop grinch bots by passing legislation prohibiting their use, a similar approach to how they sought to address ticket scalping bots.
What would the bill do?
The Stopping Grinch Bots Act would make it illegal to use bot technology to defeat or sidestep website security measures or access control systems designed to enforce purchasing limits on online merchandise. 
It would also make it illegal to knowingly sell a product if the person knows it was acquired using bots to circumvent purchasing limits.
Using grinch bots would be defined as an "unfair or deceptive practice" which would allow them to be regulated by the Federal Trade Commission (FTC) in a similar manner to ticket scalpers.
What they're saying
"At a time when families should be able to spend time with their loved ones, digital "Grinch bots" are forcing Americans to scour online sites in the hopes of finding an affordable gift or paying exorbitant prices for a single toy. These bots don't just squeeze consumers, they pose a problem for small businesses, local retailers, and other entrepreneurs trying to ensure they have the best items in stock for their customers. Our Grinch Bots Act works to level the playing field and prevent scalpers from sucking hardworking parents dry this holiday season."
"Speculators, such as the fictitious Randolph and Mortimer Duke in Trading Places, are often reviled. What few people understand is the role that speculators play in stabilizing prices. If it wasn't for speculators, the supermarket price of a loaf of bread would occasionally swing wildly. Suppose speculation was banned. Now suppose there was a drought in wheat producing states. With a smaller wheat harvest, the price of wheat would spike, and so would the price of your loaf of bread. Thankfully, speculation is legal. Expecting a higher price, due to drought, speculators buy contracts for future deliveries of wheat. Their actions bid up the price of the new wheat crop, before its harvest. Then if the drought arrives and the supply of wheat drops, the speculator will sell those futures contracts. In the process, the sales of futures smooth out price fluctuations by transferring supply to a period of relatively lower supply."
(Photo Credit: iStock.com / tarabird)