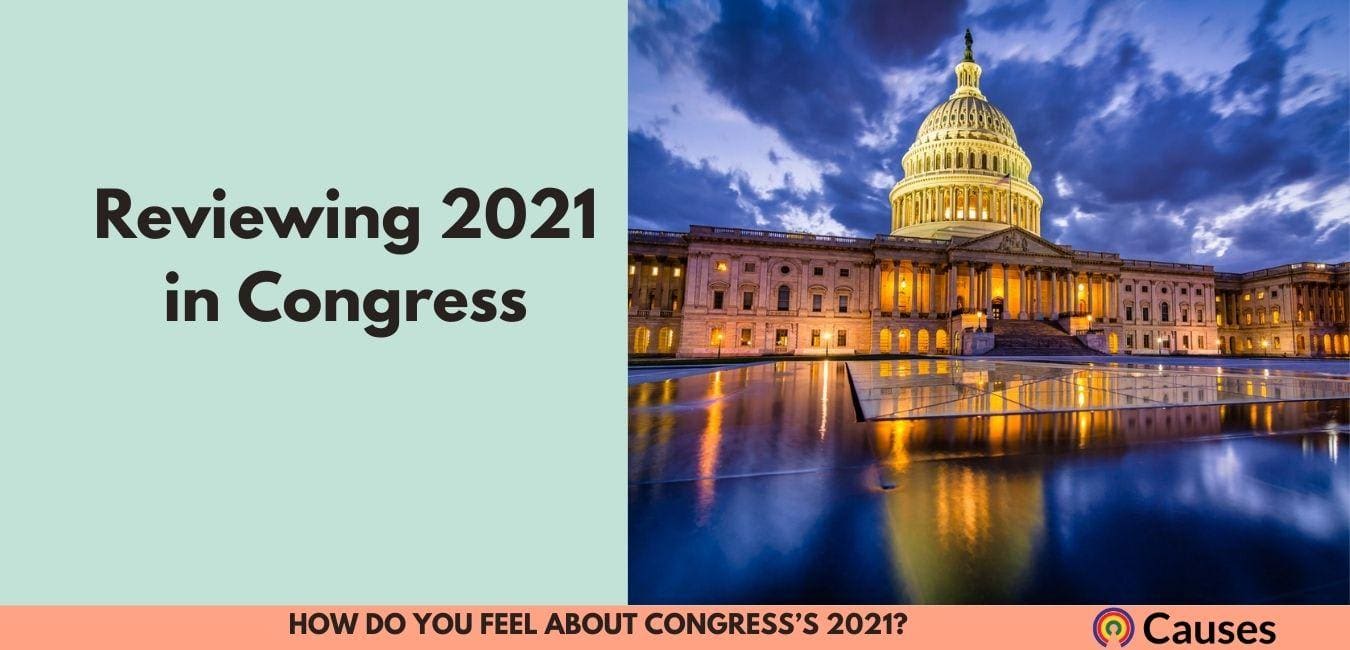 Reviewing 2021 in Congress
How do you feel about Congress's 2021?
Written by Eric Revell, Countable News
What's the story?
Congress had a busy and eventful 2021, as several notable initiatives moved forward and others stalled. Here's a look back at some of the major legislation your lawmakers considered.
Impeaching Former President Donald Trump
Following the January 6th riot at the Capitol that interrupted Congress's certification of the Electoral College's results, the House voted to impeach then-President Donald Trump for the "incitement of an insurrection."
The impeachment resolution stated that Trump repeatedly issued false statements about the 2020 election results being the result of widespread fraud, and on the day of the certification told a crowd that "if you don't fight like hell you're not going to have a country anymore". Some members of that crowd went on to breach and vandalize the Capitol, confronting law enforcement in the process of what the resolution described as "violent, deadly, destructive, and seditious acts."
The House voted to impeach Trump on a mostly party-line vote of 232-197, with 10 Republicans joining all Democrats in voting for impeachment. The Senate later acquitted Trump following an impeachment trial on a 57-43 vote which saw seven GOP senators join all 50 Democrats in voting to convict, well short of the 67 votes required for his conviction and removal from office.
Trump's impeachment wasn't the House's last action related to the January 6th riot, as Democrats in June moved to form a select committee tasked with investigating the attack on the Capitol that has since held numerous hearings and recommended that Steve Bannon and Mark Meadows be held in contempt of Congress for not complying with its subpoenas.
American Rescue Plan Act
Democrats passed the $1.9 trillion American Rescue Plan Act using the budget reconciliation process in late February and early March. It passed the House on a party-line vote of 220-211 and the Senate on a 50-49 vote. 
The ARP provided an additional round of economic stimulus payments to Americans, extended the federal enhancement of unemployment benefits through early September 2021, and temporarily increased the child tax credit. It also provided $350 billion to state and local governments, $168 billion to schools, and $48 billion for the healthcare response to COVID-19, among other areas.
While the Senate was holding an amendment "vote-a-rama" on the bill as required by the chamber's reconciliation rules, it set a record for the longest vote in Senate history. The chamber held open a vote on an amendment to increase the minimum wage to $15 per hour for 11 hours and 50 minutes which failed 42-58 so that Democrats could reach a deal amongst themselves on amending the bill's unemployment benefit provisions.
Infrastructure Investment & Jobs Act
Drafted by a bipartisan group of senators to combine the reauthorization of surface transportation and water resources development programs with additional new spending on infrastructure, the Infrastructure Investment and Jobs Act was one of the most significant pieces of infrastructure legislation considered by Congress in years.
The bill provided a total of $1.2 trillion in infrastructure spending, including $550 billion in new spending, which was partially offset by using unspent COVID relief funding. The total includes $110 billion in new funding for roads, bridges, and major projects; $118 billion for energy infrastructure; $55 billion for water infrastructure; and $65 billion for broadband deployment. 
It passed the Senate on a bipartisan vote of 69-30 in August but House Democrats then delayed it in an attempt to use it as leverage for the passage of their broader spending package (the Build Back Better Act) on party-lines through the reconciliation process. Eventually, House Democrats relented and it passed in November on a 228-206 vote with only eight Republicans voting in favor due to its perceived connection to the partisan reconciliation bill.
Build Back Better Act
The focal point of Democrats' majorities in the House and Senate for much of the year has been crafting their multi-trillion-dollar social spending plan known as the Build Back Better Act. After the passage of the Infrastructure Investment and Jobs Act in November, House Democrats coalesced around a version of the Build Back Better Act that they passed on a party-line 220-213 vote. 
Their version of the bill cost about $1.7 trillion as drafted, although that estimate could be as high as $5 trillion if temporary provisions were extended, and included tax breaks for taxpayers in high-tax states or who have dependent children; created new federal entitlement programs for paid leave and childcare; expanded preschool programs; subsidized green energy technology; and provided temporary protection from deportation for certain unauthorized immigrants.
However, the House-passed bill was a non-starter in the Senate due to opposition from moderate Sen. Joe Manchin (D-WV) and would've needed to be reworked due to the parliamentarian ruling that the immigration provisions violated the chamber's rules for bills considered under the budget reconciliation process. It's unclear whether Senate Democrats will be able to develop a pared-down version of the bill that's capable of passing both chambers.
(Photo Credit: iStock.com / Daniel Lange)