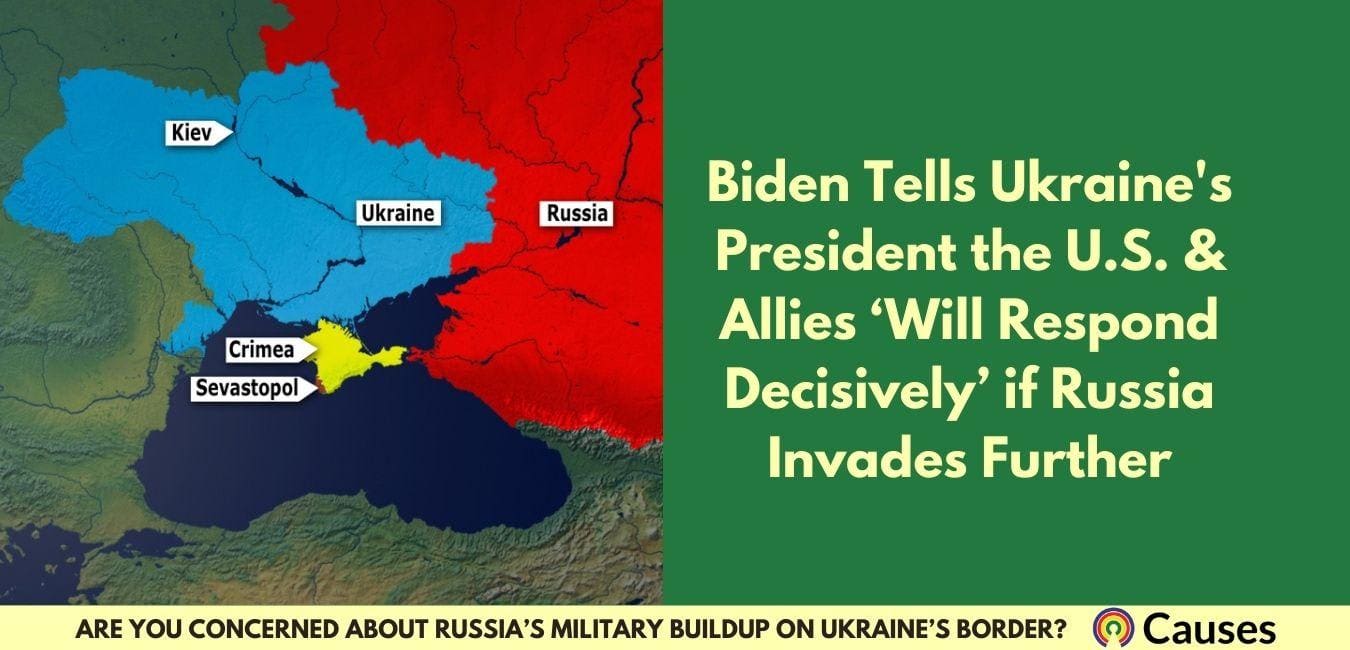 Biden tells Ukrainian president the U.S. 'Will respond decisively' if Russia invades further
Are you concerned about Russia's military buildup on Ukraine's border?
Written by Eric Revell, Countable News
What's the story?
President Joe Biden on Sunday told Ukrainian President Volodymyr Zelensky on a call that the U.S. along with its allies and partners "will respond decisively if Russia further invades Ukraine" according to a statement by Press Secretary Jen Psaki.
The meeting comes after Biden held a similar call with Russian President Vladimir Putin on Thursday in which Putin was urged to de-escalate his military buildup on Ukraine's border and warned there will be a response from the U.S. and its allies. Prior to the call, Putin removed 10,000 Russian troops from the Ukrainian border, but tens of thousands remain and continue to pose a threat of renewed invasion. Russia forcibly annexed Crimea from Ukraine in 2014, and since then has backed a separatist insurgency in Ukraine's eastern border region, known as the Donbas.
Psaki's readout of the call with Zelensky mentioned that Biden underscored the U.S. and its allies are committed to the principle of "nothing about you without you." This likely comes as a reference to Russia's requests that the U.S. and its North Atlantic Treaty Organization (NATO) allies rule out future membership by Ukraine in the alliance.
While the readout of Biden's call with Zelensky didn't mention potential NATO membership, the president "reaffirmed the United States' commitment to Ukraine's sovereignty and territorial integrity."
Currently, Ukraine is not an official member of NATO, although it is considered a partner and has received equipment and training from NATO members. Ukraine has a path to NATO membership and is seeking to join the alliance, but it's not clear how soon NATO would be prepared to admit Ukraine as a member as past efforts have been delayed by governmental instability. The U.S. and NATO member states have increased the provision of defensive military equipment to Ukraine in response to Russia's buildup.
The readouts of Biden's calls with both the Ukrainian and Russian leaders expressed support for diplomatic efforts to de-escalate the crisis through the Strategic Stability Dialogue that will begin next week, at NATO through the NATO-Russia Council, and at the Organization for Security and Cooperation in Europe.
RELATED READING
(Photo Credit: iStock.com / Beeldbewerking)