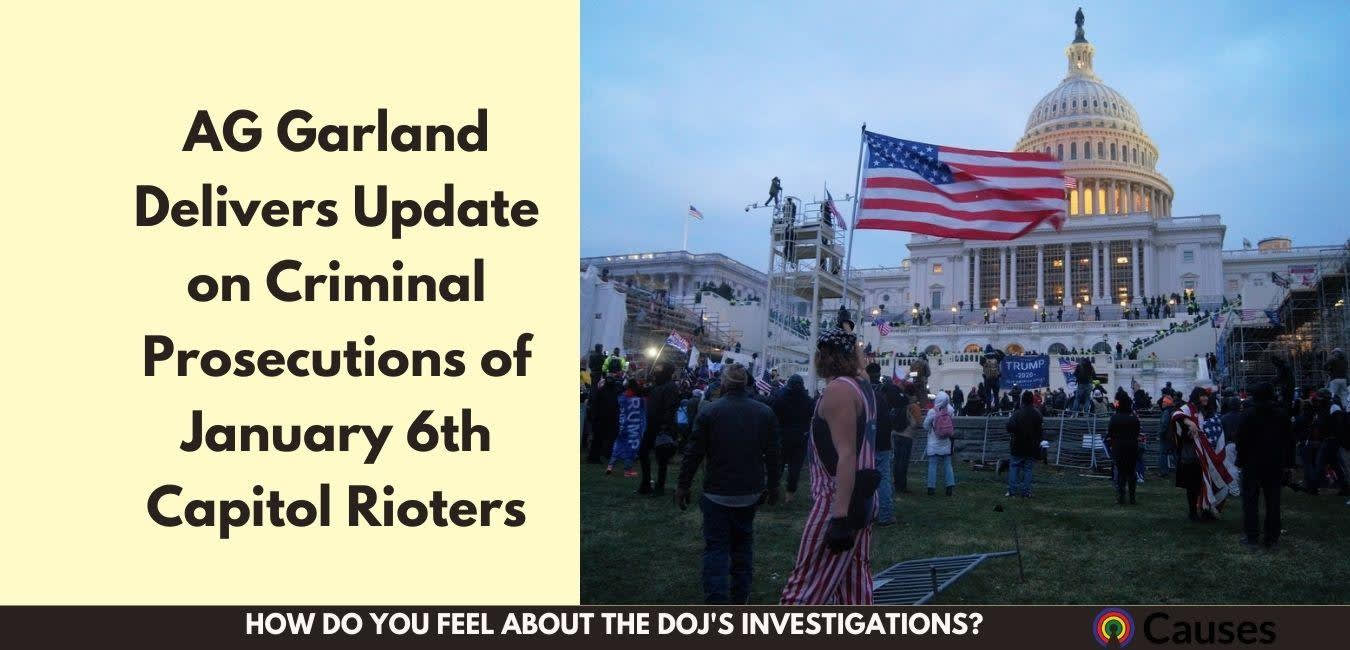 AG Garland delivers update on criminal prosecutions of January 6th Capitol rioters
How do you feel about the Justice Department's investigations?
Written by Casey Dawson, Countable News
What's the story?
Attorney General Merrick Garland delivered remarks ahead of the one-year anniversary of the January 6th attack on Capitol, where supporters of former President Donald Trump overtook the Capitol in an effort to stop the Electoral College's certification of the 2020 election.
Garland emphasized the Department of Justice's commitment to protecting American democracy and referred to the Jan. 6th investigation as one of the largest, most complex, and resource-intensive in the department's history. Garland stated:
"The Justice Department remains committed to holding all Jan. 6 perpetrators, at any level, accountable under law, whether they were present that day or were otherwise criminally responsible for the assault on our democracy. We will follow the facts wherever they lead."
He also detailed some of the actions undertaken amid the investigation so far, including arresting and charging "more than 725 defendants, in nearly all 50 states and the District of Columbia, for their roles in the January 6th attack." Over 325 defendants have been charged with felonies including assaults on law enforcement or obstructing an official proceeding, of whom 20 have already pled guilty. The attorney general added, "The actions we have taken thus far will not be our last."
Why does it matter?
The speech comes as Garland faces ongoing pressure to investigate any potential involvement that prominent politicians and former President Donald Trump may have had in the events leading up to and on January 6th. Garland did not specify any individuals or cases currently being investigated by the department or offer a timeframe for its conclusion in his remarks. 
The attorney general stated:
"We understand that there are questions about how long the investigation will take, and about what exactly we are doing. Our answer is, and will continue to be, the same answer we would give with respect to any ongoing investigation: as long as it takes and whatever it takes for justice to be done — consistent with the facts and the law. I understand that this may not be the answer some are looking for. But we will and we must speak through our work. Anything else jeopardizes the viability of our investigations and the civil liberties of our citizens"
What's next?
The DOJ recently filed criminal charges against Steve Bannon, Trump's former aide, for contempt of Congress based on a referral from the House for his noncooperation with a select committee's investigation into January 6th. The agency has not yet taken public action on a referral by the House for similar charges against former White House Chief of Staff Mark Meadows.
Congress has a separate investigation into the Jan. 6 attacks that is ongoing. Findings from the House committee investigation can be submitted to the DOJ to pursue criminal charges and they are currently considering whether to make referrals against former President Trump and his allies. As reported by CNN: 
"Justice officials note that prosecutors generally have five years of statute of limitations for most crimes that occurred January 6 and they haven't foreclosed on the possibility of targeting higher-level figures." 
Garland also detailed in his speech that at least 17 more defendants are scheduled to go to trial in the coming months for their role in felony conspiracies. The F.B.I released a series of videos on Wednesday asking the public for help in identifying suspects connected to Jan. 6. As reported by The New York Times:
"The government estimates that as many as 2,500 people who took part in the events of Jan. 6 could be charged with federal crimes. That includes more than 1,000 incidents that prosecutors believe could be assaults."
(Photo Credit: Tyler Merbler via Flickr / Creative Commons)