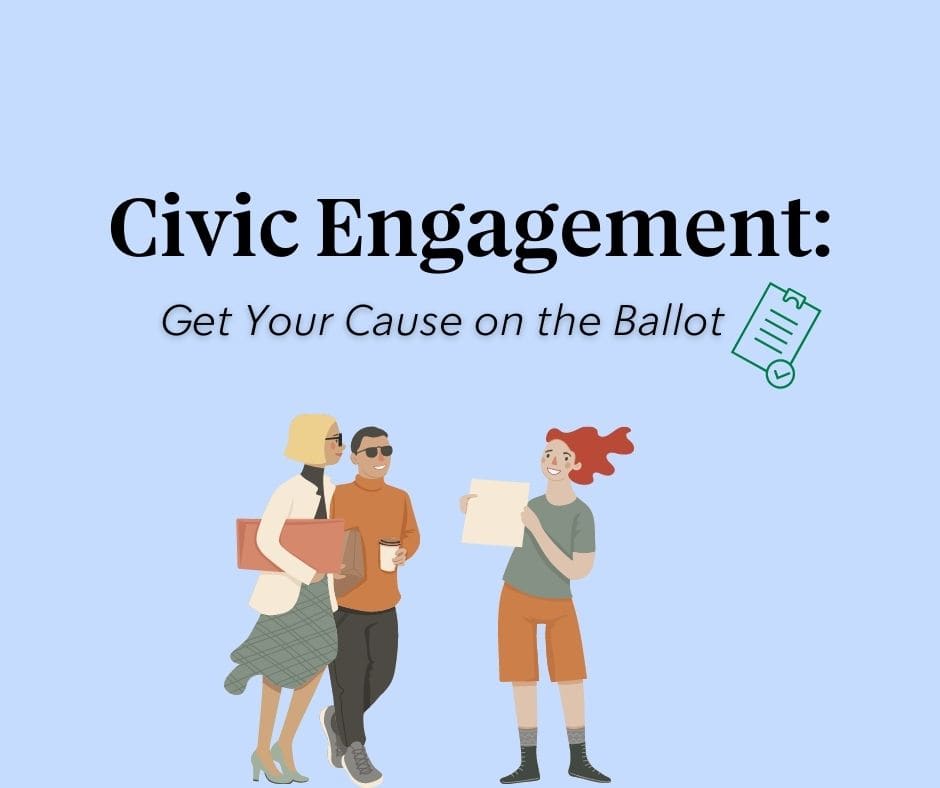 Civic Engagement: Get Your Cause on the Ballot
Join us and spread the word to your community
If you have a cause or issue you care about, you might be able to create, change, or repeal a law in your city or state. How? By utilizing the power of direct democracy with the initiative and referendum process.
What is an initiative or referendum?
Initiatives and referendums give citizens a process to propose, amend, or repeal laws and constitutional amendments by popular vote, without the approval of the local legislature.

They are also known generally as ballot initiatives, ballot measures, popular initiatives, voter initiatives, citizen initiatives, veto referendums, and propositions. 
How do they work?
Typically, a proposition starts with filing a proposed petition to a designated official who reviews the petition to ensure it meets statutory requirements. 

The petition is then circulated to the public for support in the form of signatures. Ballot initiatives must reach a minimum number of petition signatures from registered voters to be put on the ballot for popular vote. 

Once on the ballot, to be successfully passed and put into law, the general requirement is a majority (over 50%) vote approval. In some cases, qualifying ballot measures must first be brought to the legislature. If they do not vote to pass it, it is then put on the ballot for a popular vote.

The initiative and referendum process is outlined by a long list of rules, including deadlines for petitions to be submitted, campaign and funding rules, and what can and cannot be on a ballot measure. All of these regulations vary depending on the state or local law.
Where are they allowed?
Currently, 26 states and Washington D.C have

some form

of a ballot initiative or veto referendum process on the state level. Other states have processes at the local level. 

Different types of ballot measures allowed also vary, such as whether or not citizens can propose statutes, constitutional amendments, or veto referendums. 
Why are they important?
See if your state or city has any current ballot initiatives here and learn more about how to get one started in your area.
Looking for more ways to make a difference? Click here.