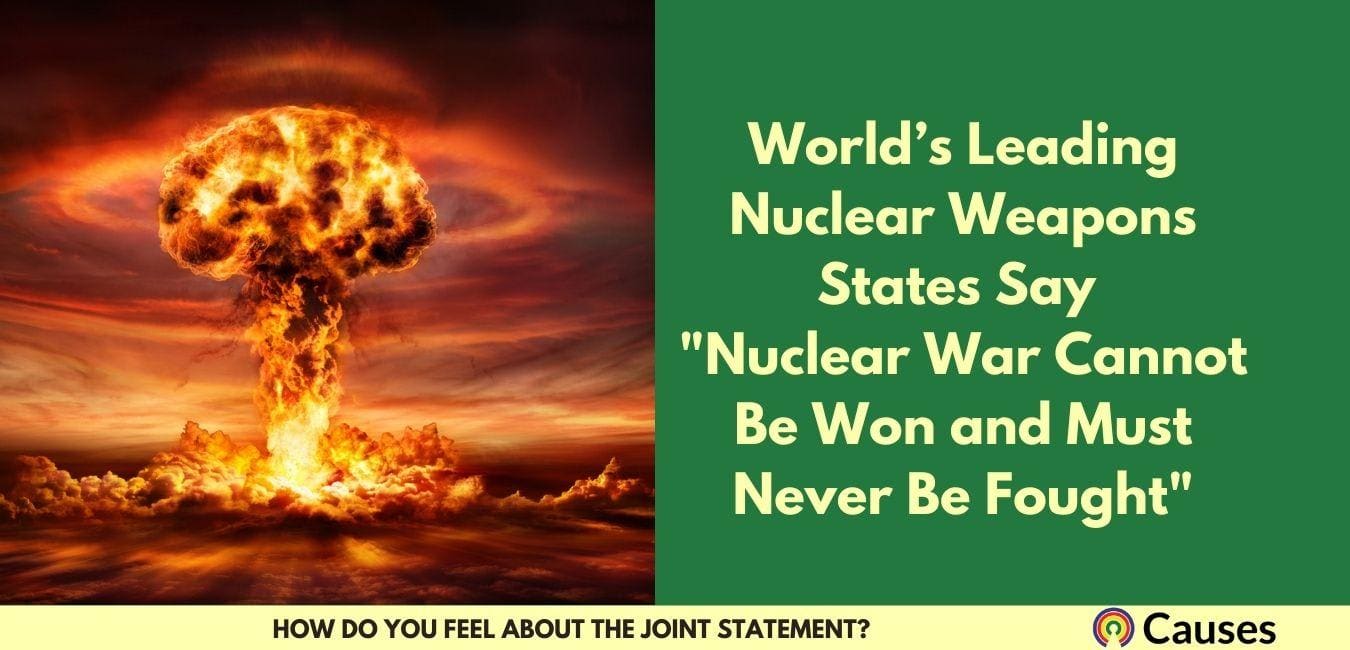 World's five leading nuclear weapons states release joint statement opposing nuclear war & arms races
How do you feel about the joint statement?
Written by Eric Revell, Countable News
What's the story?
The leaders of the five countries with the world's largest nuclear arsenals released a joint statement this month to "affirm that a nuclear war cannot be won and must never be fought" and express their commitment to preventing further nuclear proliferation and "an arms race that would benefit none and endanger all."
The U.S., the People's Republic of China, Russia, Great Britain, and France were represented in the statement, which addressed their collective desire to reduce strategic risks stemming from nuclear weapons. The joint statement explained:
"We affirm that a nuclear war cannot be won and must never be fought. As nuclear use would have far-reaching consequences, we also affirm that nuclear weapons ― for as long as they continue to exist ― should serve defensive purposes, deter aggression, and prevent war. We believe strongly that the further spread of such weapons must be prevented."
The joint statement also allowed the five nations to "emphasize the importance of preserving and complying with our bilateral and multilateral non-proliferation, disarmament, and arms control agreements and commitments." 
All five countries are parties to the Non-Proliferation Treaty and are believed to have the largest nuclear arsenals in the world. The U.S. and Russia have the largest arsenals, although China is rapidly modernizing and expanding its arsenal. Three other countries with declared nuclear weapons arsenals ― India, Pakistan, and North Korea ― didn't join the statement. 
A spokesman for United Nations Secretary-General Antonio Guterres released a statement to express appreciation for the statement as a recognition of those countries' commitment to curtailing nuclear proliferation and avoiding nuclear war. He added that "the only way to eliminate all nuclear risks is to eliminate all nuclear weapons."
This statement comes amid several looming threats to global stability, including Russia's military buildup on Ukraine's border; China's use of its military to coerce Taiwan; Iran potentially moving to acquire nuclear weapons; and North Korea's tests of nuclear-capable missiles. 
Recent efforts to renew the push for arms control have also fallen flat as Russia and the U.S. let the Intermediate Nuclear Forces (INF) Treaty expire in 2019, with both seeking to develop missiles with that range given China's large arsenal of such weapons as a non-signatory. Discussions of a new INF Treaty involving all three countries haven't progressed, and the three countries are also stepping up their development of hypersonic missiles, a technology that North Korea is also pursuing.
(Photo Credit: iStock.com / RomoloTavani)