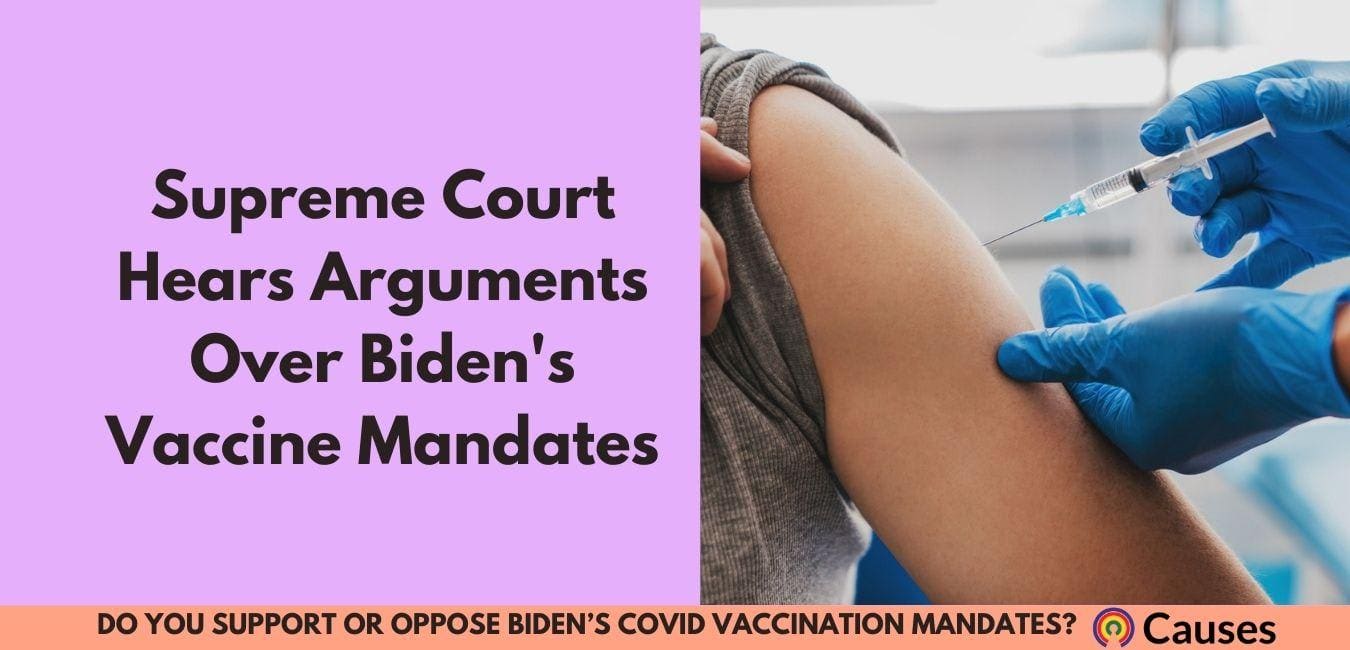 Supreme Court hears arguments over Biden's vaccine mandates
Do you support or oppose Biden's vaccination mandates?
Written by Eric Revell, Countable News
What's the story?
The Supreme Court on Friday heard arguments in a pair of cases involving challenges to the Biden administration's COVID-19 vaccination policies, including the vaccine-or-test mandates for private-sector workers at businesses with at least 100 employees, and for healthcare workers at facilities that receive federal funding.
Arguments were fast-tracked as emergency petitions after the Fifth Circuit Court of Appeals blocked the vaccine-or-test mandate for private-sector workers pending judicial review and then the Sixth Circuit reinstated the mandate. 
Given the emergency nature of the challenges, it's likely that the Court will deliver rulings on an expedited basis in a matter of days or weeks, as opposed to waiting until June when most of the opinions will be released for cases argued during the current sitting.
While oral arguments don't always indicate how justices will ultimately vote in a given case, the Court's three liberal justices appeared to agree in large part with both of the Biden administration's mandates, whereas the six conservative justices seemed more skeptical ― particularly with regard to the private-sector mandate.
What are the mandates?
The private sector mandate was formulated by the Occupational Health and Safety Agency (OSHA) using an emergency temporary standard (ETS). Under the ETS, private employers with at least 100 workers would have to require employees to either show proof of vaccination or show a negative test once a week, and also give employees time off to get vaccinated. Violators would be fined up to $14,000 for each violation.
The rarely used ETS process allows OSHA to implement a rule immediately for up to six months without undertaking the standard rulemaking process with opportunities for public comment. OSHA has said it won't assess fines until January 10th at the earliest.
The Congressional Research Service (CRS) notes that there have been 10 ETS put forward by OSHA since 1971. Only three ETS weren't challenged legally (ETS related to asbestos in 1971, vinyl chloride in 1974, and DBCP in 1977), while another one put forward in June by the Biden administration related to COVID-19 is currently undergoing judicial review. Of the six ETS that have been challenged and courts rendered a decision on, four were vacated or stayed by the court, one was partially upheld and partially vacated, and the request for a stay was denied in one case to uphold the ETS for vinyl cyanide in 1978.
The other mandate was issued by the Dept. of Health and Human Services (HHS) and requires all healthcare workers at facilities participating in Medicare and Medicaid programs to be fully vaccinated against COVID-19 unless they're eligible for a medical or religious exemption. Lower courts blocked the mandate and the Biden administration appealed to the Supreme Court to allow enforcement pending judicial review.
What did the justices say?
In the OSHA private sector mandate case, Chief Justice John Roberts ― who may be one of the conservative justices who acts as a swing vote ― said of the administration's stance that "it's certainly hard to argue" Congress gave agencies "free reign" to enact such a sweeping regulation.
Justice Elena Kagan, like the other liberal justices, stated that the mandate is necessary because of the grave circumstances of the pandemic, which she said is "by far the greatest public health danger that this country has faced in the last century." Kagan said of the rule, "It's an extraordinary use of emergency power occurring in an extraordinary circumstance, a circumstance that this country has never faced before."
Justice Samuel Alito, who seemed to oppose the rule like other conservative justices, likened OSHA's interpretation of the authority it cited in enacting the private-sector mandate to "squeezing an elephant into a mousehole." Alito added that this particular rule, unlike most OSHA regulations, applies to employees "all the time" and not just when they're on the job.
Justice Sonia Sotomayor joined the other liberal justices in arguing in favor of the rule and claimed, "We have over 100,000 children, which we've never had before, in serious condition and many on ventilators." It's unclear what data Sotomayor was referencing in that statement, but based on data from the Centers for Disease Control and Prevention (CDC), her claim was inaccurate. CDC tracks hospital admissions for patients with COVID-19 and only 82,843 children in the 0 to 17-year-old age group have been hospitalized between August 1, 2020, and January 5, 2022, far from the 100,000 she claimed are currently severely ill, and children in that age range are still being admitted at lower rates compared to older cohorts.
In the HHS healthcare worker mandate case, Roberts noted that there was an "acute danger" posed by COVID-19 in healthcare settings that are receiving federal funding through Medicare and Medicaid. He also said there appears to be a closer connection between HHS's authority and addressing COVID-19 in government healthcare than there is for OSHA in workplace settings.
In response to an argument by counsel that the HHS mandate will create an undue burden on rural hospitals, Kagan said that HHS has to balance concerns about the workforce with the health of patients and staff at such hospitals and does so in the regulatory process. Kagan asked the counsel whether courts should substitute their own judgment over that of the HHS secretary.
(Photo Credit: iStock.com / Inside Creative House)