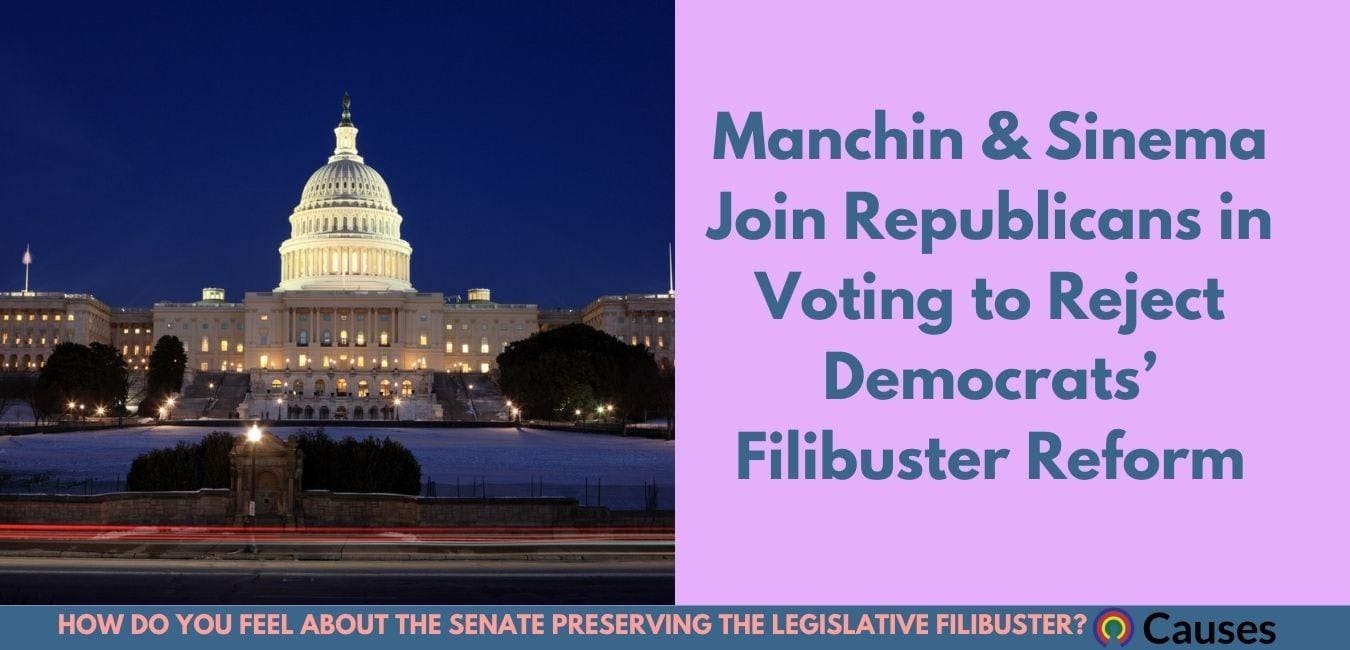 Senate rejects Democrats' filibuster reform plan
Are you interested in supporting election reforms? Head to Voter Essentials to make sure you are registered to vote
Written by Eric Revell, Countable News
What's the story?
Senate Democrats' effort to reform the chamber's legislative filibuster failed Wednesday night, as Republicans and two Democrats voted to oppose the change.
The matter came to a head after Democrats' latest election reform proposal ― the Freedom to Vote: John R. Lewis Act ― failed to attain the 60 vote threshold needed to limit debate on a party-line, 50-50 vote. Majority Leader Chuck Schumer (D-NY) changed his vote to "nay" to give himself the procedural option to bring it up for another vote in the future, making the final margin 49-51.
Once that vote failed, Schumer and Democrats put forward a proposal to use the Senate's "nuclear option" to allow the passage of election-related legislation on a simple majority vote after the minority party exhausts a talking filibuster, effectively eliminating the 60 vote threshold for such bills. Because the proposal put forward by Schumer involved a new interpretation of Senate, the presiding chair, Sen. Patrick Leahy (D-VT), ruled it to be out of order, so senators then voted on whether to sustain the chair's ruling and preserve the filibuster in its current form or to overturn it and create the exception.
Democrats' effort to use the nuclear option to create a new exception to the Senate's legislative filibuster failed on a 52-48 vote, as centrist Sens. Joe Manchin (D-WV) and Kyrsten Sinema (D-AZ) joined all Republican senators in voting to uphold the filibuster and oppose the change. Changing the Senate's precedents using the nuclear option required the support of all 50 Democratic senators plus Vice President Kamala Harris to break the tie.
More than two dozen Democratic senators who signed onto a bipartisan letter supporting the legislative filibuster in 2017 ― at a time when Republicans controlled the presidency and both chambers of Congress ― reneged on their past pledge and voted in favor of using the nuclear option Wednesday night.
The Democratic senators who signed the 2017 letter and flip-flopped on the filibuster with Wednesday's vote were Sens. Michael Bennet (D-CO), Cory Booker (D-NJ), Sherrod Brown (D-OH), Maria Cantwell (D-WA), Tom Carper (D-DE), Bob Casey (D-PA), Chris Coons (D-DE), Tammy Duckworth (D-IL), Dianne Feinstein (D-CA), Kirsten Gillibrand (D-NY), Maggie Hassan (D-NH), Martin Heinrich (D-NM), Mazie Hirono (D-HI), Tim Kaine (D-VA), Angus King (I-ME), Amy Klobuchar (D-MN), Patrick Leahy (D-VT), Ed Markey (D-MA), Bob Menendez (D-NJ), Jack Reed (D-RI), Brian Schatz (D-HI), Jeanne Shaheen (D-NH), Debbie Stabenow (D-MI), Jon Tester (D-MT), Mark Warner (D-VA), and Sheldon Whitehouse (D-RI).
RELATED READING
(Photo Credit: iStock.com / Veni)