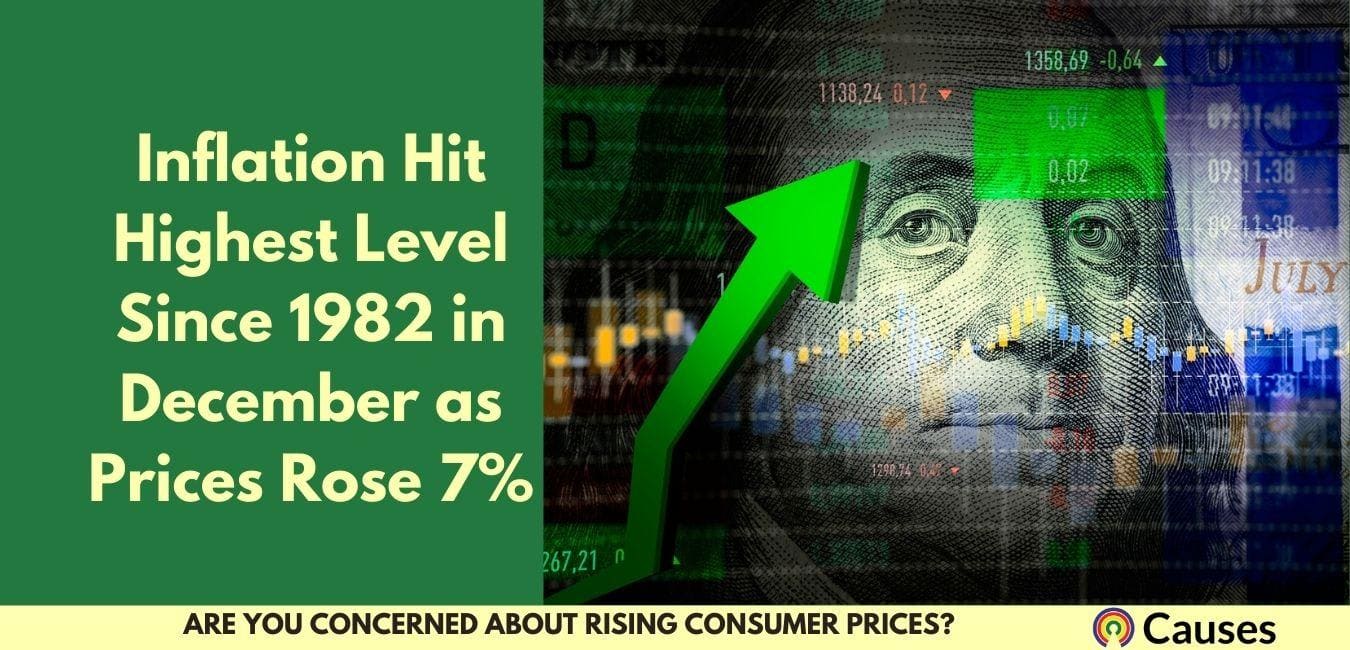 Inflation surged 7% over past year in December, highest level since 1982
How do you feel about the rise in consumer prices?
Written by Eric Revell, Countable News
What's the story?
The Bureau of Labor Statistics reported Wednesday that the all items consumer price index rose by 7% over the last 12 months through December, which is the highest rate since a comparable period ending in June 1982 and more than three times the Federal Reserve's target rate of 2%.
What goods did prices increase the most for?
Here's a rundown of the common items which have seen the largest increase in inflation year-over-year (notable monthly changes in parentheses):
Gasoline prices for all types of gas increased 49.6% over the last 12 months.
Fuel oil increased 41%.
Used cars and trucks increased 37.3%.
Car and truck rental increased 36%.
Propane, kerosene, and firewood increased 33.8%.
Utility gas service (piped) increased 24.1%.
Lodging away from home increased 23.9%.
Beef and veal increased 18.6%.
Bacon, breakfast sausage, and related products increased 18.6%.
Furniture and bedding increased 13.8%.
New vehicles increased 11.8%.
Eggs increased 11.1%.
Chicken increased 10.4%.
Fresh fish and seafood increased 10.2%.
Citrus fruits increased 9.7%.
Laundry and dry cleaning services increased 8.4%.
Baby food increased 7.9%.
Apples increased 7.8%.
Tools, hardware, outdoor equipment and supplies increased 7.2%.
Coffee increased 6.3%.
Electricity increased 6.3%.
Footwear increased 6%.
Apparel increased 5.8%.
Frozen fruits and vegetables increased 5.6%.
Potatoes increased 4.8%.
Milk increased 4.2%.
Lettuce increased 3.4%.
What is inflation and how is it measured?
Inflation is a measure of the decline of purchasing power for a given currency over time, which in the U.S. means that a dollar effectively buys less than it did in prior periods because prices rise.
The most common way inflation is measured is through the Consumer Price Index for Urban Consumers (CPI-U), which shows changes in prices paid for a "representative basket of goods and services" by an urban consumer group representing about 93% of the U.S. population.
CPI-U includes food, energy, commodities like cars and clothes, plus services such as rent and healthcare; and the relative importance of each to the overall basket shifts according to its proportion of all spending in a given month. This overall number is known as "headline" CPI, although economists also track a metric called "core" CPI which excludes food and energy because those categories tend to have more volatility.
The Federal Reserve aims to keep inflation at about 2% as part of its dual mandate of promoting stable prices and full employment, as a modest amount of inflation is viewed as an optimum policy in terms of encouraging consumer spending without penalizing savings and investment. When inflation starts to get out of control, the Fed raises interest rates to encourage more savings and less consumer spending.
(Photo Credit: iStock.com / sefa ozel)