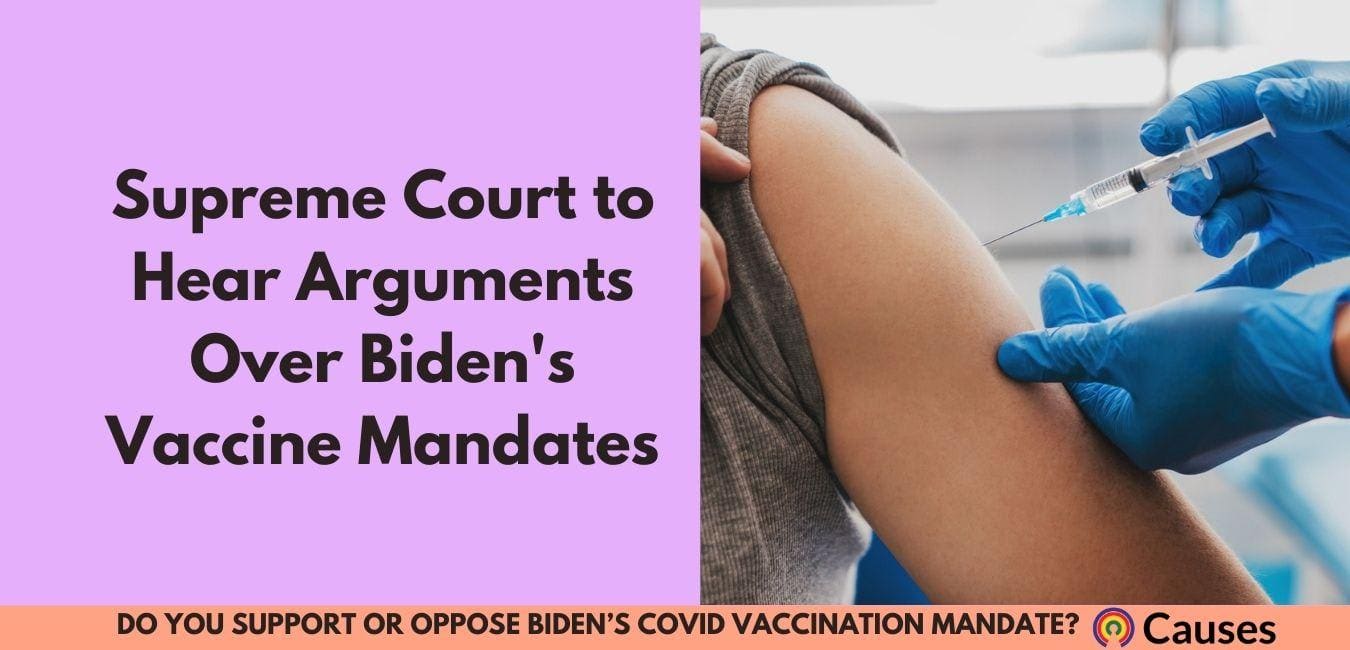 Supreme Court to hear arguments over Biden's vaccine mandates
Do you support or oppose the Biden administration's vaccine mandates?
Written by Eric Revell, Countable News
What's the story?
The Supreme Court announced Wednesday that it will fast-track a pair of challenges to the Biden administration's COVID-19 vaccination policies, namely the vaccine-or-test mandates for private-sector workers at businesses with at least 100 employees, and healthcare workers at facilities that receive federal funding.
Justices will hear arguments regarding those policies on January 7th, and given the emergency nature of the arguments, it's possible a ruling may be issued shortly thereafter. The expedited hearings follow conflicting federal court rulings, as the Fifth Circuit Court of Appeals blocked the vaccine-or-test mandate for private-sector workers pending judicial review and then the Sixth Circuit reinstated the mandate.
The private sector mandate was formulated by the Occupational Health and Safety Agency (OSHA) using an emergency temporary standard (ETS). Under the ETS, private employers with at least 100 workers would have to require employees to either show proof of vaccination or show a negative test once a week, and also give employees time off to get vaccinated. Violators would be fined up to $14,000 for each violation.
The rarely used ETS process allows OSHA to implement a rule immediately for up to six months without undertaking the standard rulemaking process with opportunities for public comment. OSHA has said it won't assess fines until January 10th at the earliest.
The Congressional Research Service (CRS) notes that there have been 10 ETS put forward by OSHA since 1971. Only three ETS weren't challenged legally (ETS related to asbestos in 1971, vinyl chloride in 1974, and DBCP in 1977), while another one put forward in June by the Biden administration related to COVID-19 is currently undergoing judicial review. Of the six ETS that have been challenged and courts rendered a decision on, four were vacated or stayed by the court, one was partially upheld and partially vacated, and the request for a stay was denied in one case to uphold the ETS for vinyl cyanide in 1978.
The other mandate was issued by the Dept. of Health and Human Services (HHS) and requires all healthcare workers at facilities participating in Medicare and Medicaid programs to be fully vaccinated against COVID-19 unless they're eligible for a medical or religious exemption. Lower courts blocked the mandate and the Biden administration appealed to the Supreme Court to allow enforcement pending judicial review.
There is an effort underway in Congress to reverse the Biden administration's private sector vaccine mandate using the Congressional Review Act. The Senate passed the repeal bill 52-48 and the House will vote on it in the new year, although if the House approves it as well it will likely be vetoed by President Biden and Congress won't have the votes to override it.