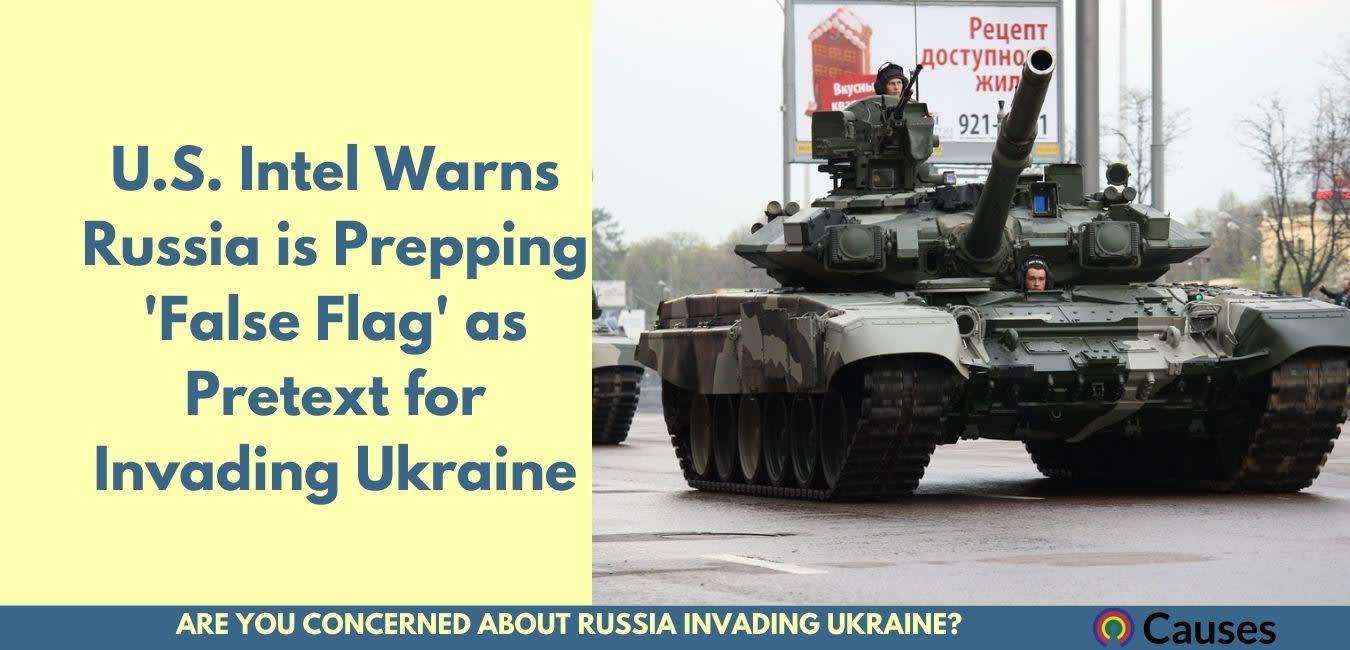 U.S. intel warns Russia is prepping 'False Flag' operation as pretext for invading Ukraine
Are you concerned about Russia using a false pretext to invade Ukraine?
Written by Eric Revell, Countable News
What's the story?
Russia is reportedly preparing a "false flag" operation to create a pretext and justify an invasion of Ukraine that could begin in the coming weeks, according to a U.S. intelligence official who spoke to multiple media outlets on Friday. This comes as recent negotiations by the U.S. and its North Atlantic Treaty Organization (NATO) allies aimed at getting Russia to de-escalate its military buildup on Ukraine's border have failed to achieve their goal to date.
The "false flag" operation would likely involve sabotage or an apparent attack on ethnic Russians and a related propaganda campaign that would occur a few weeks prior to a military invasion. Such tactics are similar to those Russia used against Ukraine in 2014 when it seized Crimea and made an incursion into the Donbas in Eastern Ukraine. 
Pentagon Press Secretary John Kirby explained the intelligence regarding Russia's plans to create a pretext for invading Ukraine at a press briefing Friday:
"(W)e have information that they pre-positioned a group of operatives to conduct what we call a false flag operation, an operation designed to look like an attack on them or Russian-speaking people in Ukraine, again, as an excuse to go in. And we already have, in addition, indications that Russian influence actors are already starting. They're already starting to fabricate Ukrainian provocations in both state and social media to, again, try to justify in advance some sort of pretext for incursion."
Over the last several months, Russia has undertaken a significant military buildup on Ukraine's border with over 100,000 troops in close proximity to the border and more personnel in staging areas where they could quickly be moved to the front. Some of the Russian units involved have been moved across the country from bases in Siberia and Russia's Far East.
Russian President Vladimir Putin has said that he will only withdraw his military from Ukraine's border if the U.S. and its NATO allies commit to never admitting Ukraine as a member of the alliance. He also has sought to reduce NATO troop levels in Central and Eastern Europe and to prevent further enlargement of NATO by adding countries like Finland, Sweden, and the Republic of Georgia.
Ukraine is considered a NATO partner and its military has been receiving equipment and training from NATO members for years, although it's not an official member of the alliance. Past efforts to admit Ukraine as a NATO member have been delayed by governmental instability, and while the current government of President Volodymyr Zelensky has sought to resolve issues standing in the way, it's unclear how quickly NATO could admit Ukraine.
The U.S. and NATO have informed Russia that future decisions about Ukraine joining NATO are between that country and the alliance and that Ukraine's potential future membership won't be a matter negotiated with Russia. Further, NATO has refused to reduce troop levels or rule out the enlargement such as through the admission of Finland and Sweden as NATO members. 
While Finland and Sweden aren't actively pursuing membership at this point, they are close partners with NATO, and leaders in both countries have said that Russia shouldn't have a veto over other countries' potential NATO membership. NATO Secretary General Jens Stoltenberg said Thursday that Finland and Sweden could be admitted "quite quickly" if the political will is there.
RELATED READING
(Photo Credit: Dmitry Terekhov via Flickr / Creative Commons)